Hundreds of people took cover as the gunman behind the Las Vegas attack rained bullets down on fans at a country music festival – but one defiant man stood and gave the mass murderer the finger.
In footage of the shooting, the man, in a black vest and clutching a beer can, holds his defiant stance until the shooter opens fire again before bending down to shield himself from the hail of bullets. Another person in the video can be heard yelling "get the f**k down" to the fearless festival goer.
The Nevada shooting killed at least 59 people and injured another 527. It is the worst mass shooting in modern US history. The gunman, 64-year-old Nevada resident Stephen Paddock, opened fire from the 32nd floor of the Mandalay Bay Hotel towards the Route 91 Harvest country music festival attended by 22,000.
He killed himself as police stormed the room where 10 guns were found. Investigators have found no link to international terrorism, despite a claim from so-called Islamic State. In an address from the White House, President Donald Trump described the attack as "pure evil".
Trump praised the efforts of the emergency services, saying their "miraculous" speed saved lives, and announced he would be visiting Las Vegas on Wednesday 4 October.
Officers recovered 19 firearms, explosives and ammo from Stephen Paddock's home in Mesquite, Nevada, hours after discovering 23 guns in the Las Vegas hotel room. Earlier, police found several pounds of ammonium nitrate, a chemical used to make explosives, in the car of the retired accountant.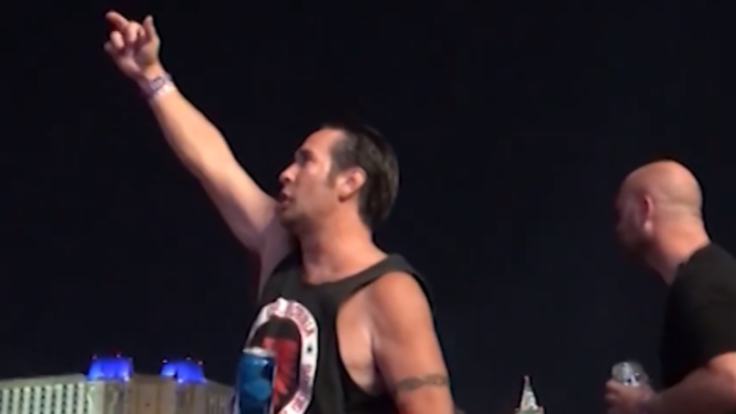 Lone Wolf
Paddock, from a community of senior citizens in the small town of Mesquite north-east of Las Vegas, booked into the hotel on 28 September, police say. His motives for the shooting remain a mystery. Some investigators have suggested psychological issues, but there is no confirmation of this.
His brother, Eric, said his family is "dumbfounded" that he acted this way. He said: "We're in shock, horrified, completely dumbfounded. Where the hell did he get automatic weapons? He has no military background, or anything like that."
Las Vegas sheriff Joe Lombardo said: "I can't get into the mind of a psychopath at this point."
Detectives have described Paddock as a "lone wolf" and dismissed speculation there were more assailants.
Islamic State has claimed to be behind the attack, saying that Paddock had converted to Islam some months ago. But the group provided no evidence for this and has made unsubstantiated claims in the past.
FBI Special Agent Aaron Rouse told a news conference: "We have determined at this point no connection to an international terrorist organisation."