The future of PC manufacturer Dell will be fought over by its co-founder Michael Dell, billionaire investor Carl Icahn and the world's largest private equity group Blackstone.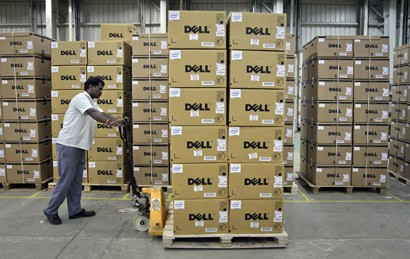 Ahead of Saturday's deadline, both Icahn and Blackstone submitted expressions of interest rather than full-blown bids for the world's No 3 PC maker, set to rival Michael Dell's $24.4bn (£16bn) offer which was made last month in conjunction with private equity firm Silver Lake.
According to a source for Reuters, Dell has established a special committee to evaluate the separate takeover bids and to decide if either Icahn's or Blackstone's bid trumps Michael Dell's offer which values shares at $13.65.
The committee could make an announcement as soon as Monday about whether or not the new offers could reasonably lead to a superior bid. Both Blackstone and Icahn have not commented on the situation thus far.
There has been a lot of resistance to Dell's offer since it was announced last month, with some shareholders believing it undervalues the company significantly. Dell's shares closed at $14.14 on Friday.
While there has been no official bid from Blackstone, a source speaking to the Wall Street Journal said the private-equity firm was offering between $13.65 and $15 per share in a deal which will invite shareholder participation.
Any rival bid could use a "public equity stub," which gives existing shareholders the option to keep a stake in the company after a buyout, a person familiar with the matter said earlier this week.
Investor
Billionaire investor Carl Icahn, who has built up a minority stake in Dell and opposes the offer by founder Michael Dell and Silver Lake, has made an offer of $15 per share for 58 percent of the company.
Under his proposal, the shareholders will have a choice of electing cash or stock, but there would be a cap on the amount of cash they could get.
In other words, if all Dell shareholders chose to cash out, they could only sell 58 percent of their stock, retaining the other 42 percent that will remain publicly traded.
Icahn is being advised by investment bank Jefferies Group Inc. The activist investor, who has taken a stake in Dell, earlier this month demanded Dell pay out $15.7bn in special dividends but is no longer asking for this a source told Reuters.
Icahn plans to fund his bid with his own money, Dell's cash as well as new debt, the source said.
Private
Co-founder Michael Dell plans on taking the company private after 24 years as a public company in order to restructure the ailing PC manufacturer. He has said his plans include focusing on enterprise computing and less on the company's consumer line-up.
For Dell's bid to be approved he needs the backing of a majority of shareholders - excluding himself - but with many major shareholders, such as Southeastern Asset Management and T. Rowe Price pledging to vote against the takeover as it stands, Dell will find it difficult to get that majority.
Michael Dell's offer last month triggered what is known as a "go-shop" period during which the target company (Dell in this case) actively looks for rival offers, and has led to a situation where the future of the company seems uncertain.
Once seen as a model of innovation the last decade has seen Dell's once dominant position as the world's largest PC manufacturer decline, and at the end of 2012 the company had slipped to third place behind HP and Lenovo with just 10 percent of the market, according to figures from research firm Gartner.
The overall decline in the PC industry - triggered by a move to increasingly powerful tablets and smartphones - has been one of the key factors in Dell's decline.
The company is reported to have slashed its internal forecast for fiscal 2013 from operating profits of $3.7bn to just $3bn, more details of which are expected to be revealed in proxy filings this week.