UPDATE 12.42pm BST: Delta Air Lines has announced that it will be giving a waiver to all passengers travelling on the carrier between 8 August to 12 August due to the system outage, which means customers are entitled to a refund and to book another flight even if their flight was not cancelled.
"Delta has published a waiver for customers traveling on Aug. 8 through Aug. 12," the announcement on news.delta.com reads.

"A power outage in Atlanta, which began at approximately 2:30 a.m. ET, has impacted Delta computer systems and operations worldwide, resulting in flight delays. Large-scale cancellations are expected today. All flights enroute are operating normally. We are aware that flight status systems, including airport screens, are incorrectly showing flights on time. We apologize to customers who are affected by this issue, and our teams are working to resolve the problem as quickly as possible."
Thousands of travellers are stranded in airports around the world due to a computer outage that is affecting all of Delta Air Lines systems. The outage started around 7.30am BST (2.30am ET) on 8 August and is has so far been ongoing for an hour.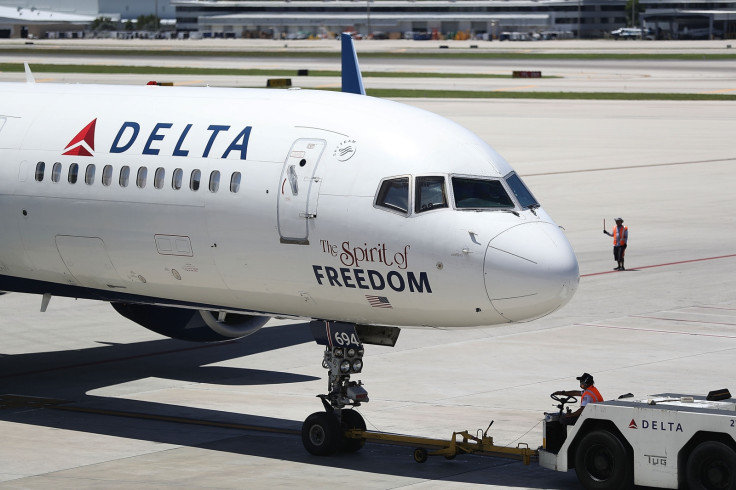 On Twitter, passengers have so far reported delays at London's Heathrow Airport, Stuttgart Airport in Germany, Rome's Leonardo da Vinci–Fiumicino Airport (FCO), Brussels Airport in Belgium, Los Angeles International, Seattle-Tacoma International Airport and San Francisco International.
Delta told IBTimes UK: "Delta experienced a computer outage that has impacted flights scheduled for this morning. Flights awaiting departure are currently delayed. Flights en route are operating normally. Delta is advising travellers to check the status of their flights this morning while the issue is being addressed."
The US airline has not posted any statements to its official Twitter account @Delta, but it is responding to individual users, tweeting that the computer systems "are down everywhere" and all flights are grounded as the carrier works to get the systems back up again.
Delta Airlines network outage affecting multiple applications
At 10.35am BST, Delta tweeted in response to customer and media questions that the network outage is much wider than previously thought.
"Our IT team is currently working on some network issues that are impacting several applications, including our website. We are currently experiencing a major system-wide network outage. Our Team is working diligently to get it back up and running. Flights awaiting departure are currently delayed. Flights enroute are operating normally," the airline told Twitter user @SeanPCarson.
Delta told Twitter users @kevinsrq23 and @seguifox13.: "Hi there Kevin, unfortunately all flights are grounded due to a system outage nationwide. Hopefully it won't be much longer."
Stranded travellers tweet their grief
Due to the computer systems going offline, passengers are unable to check in and long queues are forming in airports worldwide, but Delta's comments indicate that the issue is wider and potentially could affect more than just seat allocation.
At 11.20am BST, Twitter user Christopher posted: "We were informed flights could be delayed "hours" and that may be optimistic. #goodtimes #someonepushthebuttonoff"
Another user Nick Boyd said: "You know it's going to be a long f**king time when #Deltaairlines brings out coffee and muffins. #delta #fml"
Javier Rosenberg, the CEO and executive vice president of the Carlson Rezidor Hotel Group, is stranded in Rome. He was the first to tweet a photograph showing long queues of passengers waiting in departures at the check-in desks for Delta Air Lines, but other stranded travellers in other countries have followed suit.
Delta is one of the five legacy carriers in the US and is the oldest airline still operating in the country, as well as the sixth-oldest airline in the world.
IBTimes UK will update as soon as we have more information on this breaking story...