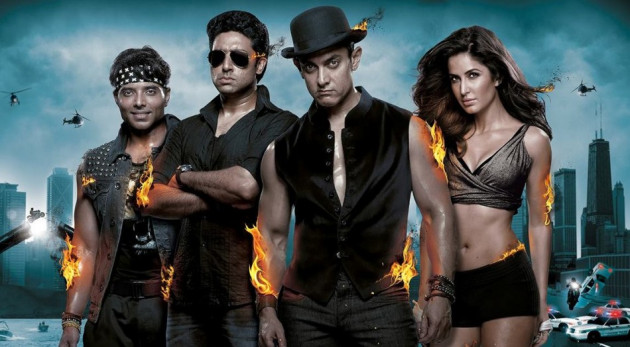 Dhoom 3 is 2013's most awaited Bollywood film. This is primarily because:
• It is superstar Aamir Khan's next big commercial film (the actor is extremely selective about the roles he picks).
• It brings Katrina Kaif together with Aamir Khan on the big screen for the first time.
• It takes forward the immensely loved and popular 'Dhoom' movie franchise.
• Khan's previous films which were released around the same time of the year (including 2009 monster hit, 3 Idiots) have gone on to break box office records.
There has been tremendous buzz around this film ever since it was announced. Aamir Khan plays the antagonist who is an accomplished acrobat and thief. He has Katrina Kaif (looking smoldering hot as Aaliya, the acrobat diva) for company and the series regular Bachchan Jr. and Uday Chopra as the righteous men of law.
Several other Bollywood movie stars (Shahrukh Khan, Salman Khan) were rumored to be associated with the role that Aamir Khan plays in this film.
The plot of this film has been well-guarded and reportedly only three people associated with this film had the script: Aamir Khan, director, Vijay Krishna Acharya and producer Aditya Chopra. The film is slated for a December 20, 2013, release.
Here's the trailer: