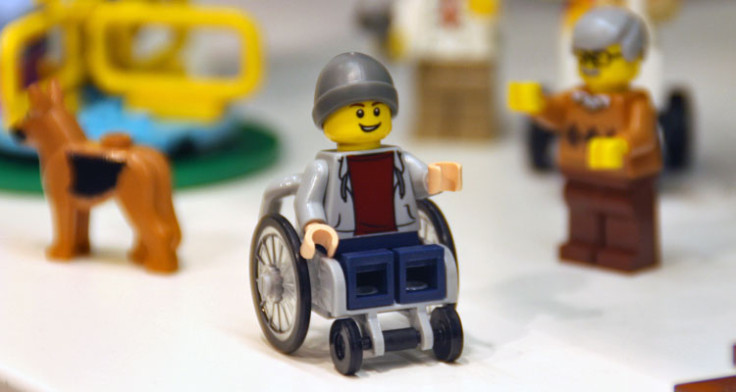 Move over cowboys, pirates and astronauts and make way for a Lego guy in a wheelchair. It may have taken the German toy company almost 84 years, but it has won praise for finally releasing a figure with a disability.
The beanie-topped character debuted at the Nuremburg and London toy fairs and was included in a set with a dog, ice-cream vendor, cyclist and picnickers in a park, reported the Guardian.
"We've got genuine tears of joy right now ... Lego has just rocked our brick-built world!" gushed organizers of the #ToyLikeMe campaign, which has long lobbied Lego to include figures with disabilities and had launched an online petition to convince the company to include figures in wheelchairs.
"Please make this the last Christmas disabled kids are culturally excluded from your much-loved products," the petition pleaded with Lego. "Think outside the brick box. Mix it up a bit! Add some brawn, stamina, a few sweat bands, couple of half pipes and some lightning fast wheelchairs.
"There are 150 million children with disabilities worldwide. Yet these kids are arriving into a world where, even before they've left their mums' laps, they're excluded or misrepresented by the very industry that exists to create their entertainment, the objects that fuel their development, the starting blocks of life: Toys!"
Lego initially resisted the pressure, arguing to Rebecca Atkinson, co-founder of the campaign, that the "beauty of the Lego system is that children may choose how to use the pieces we offer to build their own stories."
The company had previously promoted a tiny plastic wheelchair as part of a Duplo set which included a range of "Community People" of ages and ethnicities. In a promotional photo, a Duplo senior citizen was sitting in the wheelchair.
"We applaud Lego for producing a wheelchair," Atkinson said in a statement. "But it's so disappointing" that the only person using the wheelchair "is an elderly person being pushed along by a younger figure. What does this say to children about disability?"