Hundreds of mourners attended a church in Florida on Saturday (29 July) to pay their last respects to a disabled father, who drowned while a group of teenagers filmed him and offered no assistance whatsoever.
Jamel Dunn, 31, died in a retention pond in Cocoa, Florida, on 9 July – but his body was not discovered for another five days.
Several days later, video footage seeming to show a group of teens standing by the water's edge, mocking Dunn as he drowned, surfaced online.
The group, who police say had congregated to smoke marijuana, may now face charges.
More than 200 of Dunn's friends and family attended Zion Orthodox Primitive Baptist Church in Cocoa to lay to rest the father of two daughters, aged 11 and six.
Florida Today reports that many of the mourners wore red at the request of the family. Dunn was carried in a red coffin and the order of service was also red and featured a picture of him in a graduation cap and gown.
"He had a strong desire for success, and was always willing to undertake new and daring enterprises," the order said, while also describing him as a "family-oriented" person who "loved to clown and crack jokes".
Pastor Jarvis Wash touched on the circumstances of Dunn's death during the service and admitted that he couldn't understand why the teenagers wouldn't help him.
Dunn leaves behind two children, Jamyah Dunn and Zaharah Brookens; his mother, Gloria Dunn; his father, Maurice Bush; two sisters, Simone McIntosh and Cierra McIntosh; two brothers, Martell Dunn and Rafeal Dunn; his fiancee, RonDanelle Williams; nine aunts; and eight uncles.
The family wrote in the order of service: "Words alone aren't enough to fully convey our gratitude to the many concerned, known and unknown, supporters of the Dunn family.
"Our fight has just begun, and we will do all we can to assist other families who experience the tragedy of such a loss. May God bless your kindness."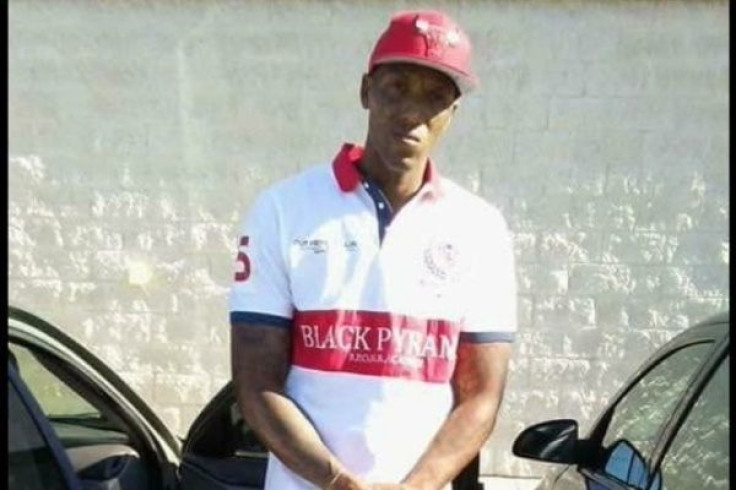 Authorities said the teens were smoking marijuana by the water when they saw Dunn approach it with his walking stick.
"He started to struggle and scream for help, and they just laughed," said Cocoa Police Department spokeswoman Yvonne Martinez.
"They didn't call the police. They just laughed the whole time. He was just screaming... for someone to help him," she added.
Police have asked the state attorney to consider filing criminal charges against the group, who are all believed to be aged between 14 and 16.
However, it is not illegal to refuse assistance to a dying person in the US, or indeed in many countries. Instead, police are asking the state to consider charging the group for the crime of not reporting a dead body.
A GoFundMe page has been set up to raise money for Dun's surviving children and their mothers. So far more than $36,000 (£27,500) has been raised out of a $50,000 goal.
Dunn's sister, Simone McIntosh, who set up the page, wrote: "Anything makes a difference, Thanks in advance."