The best moments of any E3 aren't the extravagant announcements or the expensive CGI trailers, and they're certainly not the forced eSports-baiting moments or executive soliloquies preaching to the choir about why video games are great.
No, the best moments are between all that. They're the instances when the game industry briefly drops the big business facade, and flaunts just a bit of its weird and wonderful true self.
As another E3 passes into history, we wanted to shine a spotlight on the weirder moments of this year's show, starting with a perfect send-up of what's often the most maddening part of the whole shebang.
Devolver Digital's press conference
Sony, Microsoft, Nintendo, EA, Ubisoft and Bethesda are the six companies that typically hold E3 briefings ahead of the show's doors opening. They're six of the biggest video game companies out there, but this year they were joined by indie publisher Devolver Digital.
Devolver's success has come from its irreverent humour and knack for discovering the most stylish unpublished games, so when it announced it would be holding its own E3 press conference everyone was expecting something different.
Nobody expected such a funny, dark and self-deprecating send-up of E3 clichés. You can watch Devolver's event here.
Microsoft lets a shoutcaster loose
Less endearing than the other entries on this list was the eSports commentator, otherwise known as a shoutcaster, who appeared during a gameplay presentation for Scavengers Studio's The Darwin Project.
Clearly trying to up-sell the game's potential as an eSport, the result was a bizarre few minutes as a grown man yelled over footage that was otherwise fine, during an otherwise professional conference.
It was one of the weirdest, and worst moments of any of the six shows this year.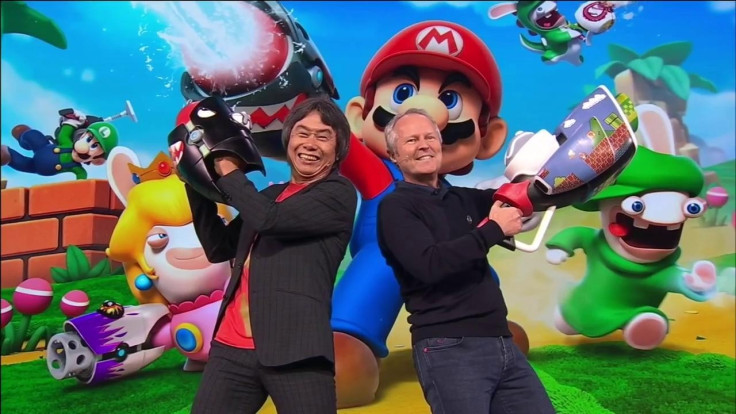 Miyamoto and Guillemot shoot up
Multiple leaks ensured Mario + Rabbids: Kingdom Battle's E3 reveal wasn't a surprise announcement, but the game was still one of the most impressive of the show - winning people over with its ludicrous concept.
It stars Mario and his familiar friends opposite Ubisoft's manic Minion-like mascots the Rabbids, some of whom are the game's enemies while others, cosplaying as the Nintendo favourites, help players in an XCOM-style, turn-based strategy shooter.
It looks fantastic and by all accounts it's fun to play, but the impression it made is also partly down to the manner of its reveal. Ubisoft's media event opened with CEO Yves Guillemot inviting Mario creator, the legendary Shigeru Miyamoto to the stage.
Wielding toy guns from the game, the pair stood on stage mimicking shooting the audience as they lapped it up, and it gave us THE lasting image of E3 2017.
Elijah Wood's creepy VR game
Someone who was even less likely to appear at an Ubisoft E3 show was Lord of the Rings star Elijah Wood, but he did in a trailer for upcoming VR psychological thriller Transference, from Ubisoft Montreal and Wood's film company SpectreVision.
The unsettling and weird teaser, inflected with 80s techno-horror visuals, was a highlight of Ubisoft's great show, but it took a little more information to get an idea of what the game actually is.
Transference is about a world in which human memories can be recreated digitally, in which players are tasked with navigating "the maze-like puzzle of an impossible home". The game is out next spring.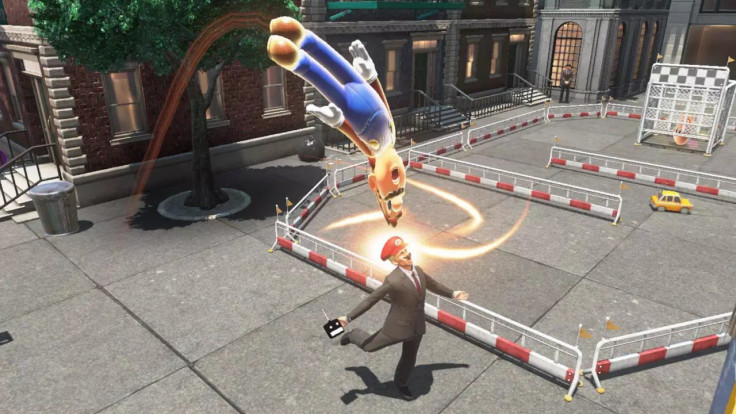 The existential hat horror of Super Mario Odyssey

Nintendo Switch's big Christmas game Super Mario Odyssey was one of the most anticipated of the show, and Nintendo didn't disappoint. If the objective of an E3 showing is to leave a lasting impression, then Nintendo completed its mission, but not quite in the way many anticipated.
Odyssey's wonderful, eccentric trailer highlighted the game's key feature: the ability for Mario to take over control of friends, foes and objects thanks to his sentient hat called Cappy. The 'Cap-ture' power posed some questions though, chiefly questions about the nature of existence.
Humans, a T-Rex, a frog and some Goombas are spotted in the trailer being possessed by Mario's cap. Do they die when Mario takes over? Does it hurt? Where does their consciousness go when this is happening? Where does MARIO go exactly? Who gave this hat god-like powers? Why is Mario so okay with this? What the hell, Nintendo?
These aren't the kind of questions any of us ever expected to ask of a Nintendo game, but we're glad we get to. Weird Nintendo is the best Nintendo.
Eating bananas wrong
Sea of Thieves is an upcoming shared-world co-op pirate game from the creative and whimsical men and women of legendary British developer Rare. The game demos fantastically well, winning players over with its style, humour and gentle co-op play.
It's full of great little touches, including one in particular involving eating a banana. In the gameplay demo shown during Microsoft's event, a pirate pulls out a banana and eats it in one mouthful, stalk first, with the skin off.
Griffin McElroy at Polygon noticed this, and at the end of a round-up of the event bit into a banana in exactly the same way. Eyes watering and clearly disgusted, McElroy turned from the camera saying "It's so bad!"
The Rare team noticed, sharing a similar clip involving a new item of food. "We see your banana and raise you this coconut..."