It's not often that EA Sports is required to play catch-up, but the famed studio certainly had to when it acquired the Ultimate Fighting Championship (UFC) license in 2012. EA's job was to make a series of its own that could live up to the trio of THQ classics that bore the mixed martial arts (MMA) promotion's name, and make them a bigger success.
The UFC Undisputed series (2009 – 2012) was built on the foundation of a rock-solid control scheme that boiled down the complicated nature of the multi-faceted sport into something intuitive and easy to understand. From there, all THQ needed was good fighter likenesses, production values and the satisfying feel of landing a flush head kick.
High production values are to be expected of EA Sports, but the company's first crack at the license proved a disappointment. The control scheme wasn't quite there and the modes on offer were sparse. It felt like a first crack at a difficult proposition – so it's no surprise that the follow-up improves things in a number of ways. We played the game for a few hours at a preview event in London held shortly before Michael Bisping and Anderson Silva tore the house down at the O2 Arena with a fight of the year contender at UFC Fight Night 84.
UFC 2's controls are now more closely reminiscent of THQ's games, which can only be a good thing. They're intuitive and easy to get to grips with. Newcomers are sure to be daunted at first – because the controls are still deep and complex – but EA accommodates for those fans wonderfully with a practice mode that doesn't just inform players how to pull off moves, but lends context to their actions. This is particularly useful when it comes to the sometimes infuriating (by nature, not by ill-design) ground game.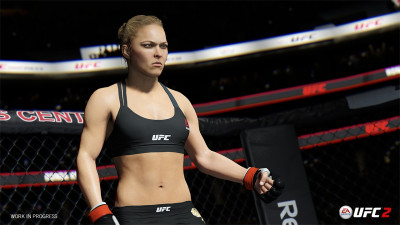 Newcomers will also be tempted by the new Knockout Mode, which forgoes the clinch and ground games to offer players a mode similar to Street Fighter or Mortal Kombat – with a health bar and best-of-three rounds set-up. It doesn't really matter whether the mode is born out of a lack of Fight Night games (the last one came in 2011) or to accommodate pre-order bonus competitor Mike Tyson – in action it's a fun and addictive new feature.
According to creative director Brian Hayes, the mode was included to appeal to players who aren't fans of the ground game and who stand fights up whenever they go to the mat. This sounded like nonsense to me, but a fellow journalist at the preview event told me they liked to play in this way.
A Live Events mode will allow fans to play through upcoming real-life fight cards, place and play out their predictions and earn rewards if they come to fruition. There are also custom events, allowing players to put together and play through their own fight cards.
The biggest new mode coming to EA Sports UFC 2 however is undoubtedly Ultimate Team – the tried and tested, micro-transaction-led mode that has been a gargantuan success in EA's Fifa and Madden series. In UFC 2, the mode requires players to create teams of up to five created fighters (the creation suite has also been greatly improved, and accommodates female fighters – rectifying the last game's most egregious fault) to be fought online and off to earn points and collect cards that add moves to a fighter's arsenal and improve their stats.
Ultimate Team could well prove to be the mode that defines UFC for months to come, giving it legs beyond the standard career mode.
EA UFC 2 could have 400 new modes to flaunt at events like these, but none of them would really matter if the core gameplay wasn't up to scratch. Thankfully, the signs are there that big improvements have been made. Having played and witnessed numerous matches during the session, I saw every outcome. There were quick KOs, fights fought mostly on the mat, others that were lengthy slog-fests and a few that had to be decided on points – something which wasn't exactly common in the THQ games.
Striking a balance that allows for a variety of fights is difficult. For example, the ground game shouldn't sap players of their energy too quickly and only perfectly placed strikes should deal out huge amounts of damage. Also, there needs to be the capacity to slowly break someone down with jabs over the course of three rounds, but also be able to knock someone spark out in the opening few seconds. EA UFC 2 appears to strike a good balance.
After a difficult opening round with a tricky license, EA appears to be setting the pace again in round two. Knockout Mode opens the game up to a new audience and Ultimate Team could very well give the game enduring appeal, but most importantly the core has been improved, creating the kind of dramatic, unpredictable fights that make MMA so popular.
For all the latest video game news follow us on Twitter @IBTGamesUK.