EastEnders actress Lacey Turner has received a flood of praise for her portrayal of the mental health crisis suffered by character Stacey Branning. Viewers watched as Stacey's battle with postpartum psychosis deteriorated and took to Twitter in their droves to applaud Turner's performance, with some even describing it as "Oscar worthy".
During the hour-long episode, which aired on 7 January, Stacey was seen racing around Albert Square with her newborn son Arthur, who was born on Christmas Eve and whom she believes is the son of God. In a series of ramblings, Stacey, who was previously diagnosed with bipolar disorder, made a number of religious references and accused her friends and family of trying to steal Arthur, even branding her brother Kyle the devil.
The mother-of-two's condition worsened when her uncle Charlie Slater died of a heart attack and she was last seen with Arthur hiding on the roof of local pub The Queen Vic. Viewers were bowled over by Turner's handling of the difficult scenes and gave her an ovation via social media. One viewer tweeted: "Lacey Turner (Stacey on eastenders) is such an amazing actress. Fair play as acting out a mental illness so damn well is Oscar worthy."
Applauding the BBC One soap for raising awareness of a relatively unknown illness, one supporter commented: "Never knew there was such a thing as post-partum psychosis. Impressive acting job by Lacey Turner in portraying Stacey in #Eastenders." Another said: "The storyline and acting from Stacey is brilliant she definitely deserves awards."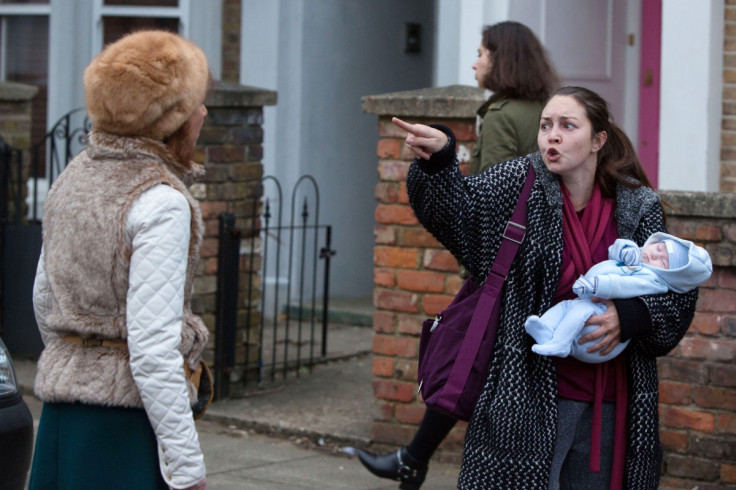 In order to handle the mental health story delicately, Turner and the EastEnders crew worked closely with the Mind charity. Producer Dominic Treadwell-Collins said of the storyline: "Stacey's mental health story will be one of our biggest storylines over Christmas and the beginning of 2016 as we explore Stacey's bipolar disorder and its effects on her and those closest to her."
He continued: "EastEnders have worked closely with Mind, Bipolar UK, other experts in the field and women with personal experience to show a story that is true and painful, while also filled with the usual twists and turns viewers have come to expect from EastEnders. Lacey is one of the most raw and intuitive actresses on television and it's exciting to watch her getting her teeth into a really intense storyline as Stacey battles against the world."
Fans of the series were also speculating about another story arc involving Stacey, who learned that her brother Kyle may not be who he claims to be. Before he died, Charlie told his daughter Kat Slater that Stacey's father did not have a son but another daughter, leading viewers to suggest that Kyle is a transgender man. Riley Carter Millington, who plays Kyle, is the first transgender actor to play a transgender character. Like his character, Millington, 21, transitioned from female to male.
EastEnders continues on Monday 11 January 2016 at 8pm. Watch EastEnders' January 2016 trailer: