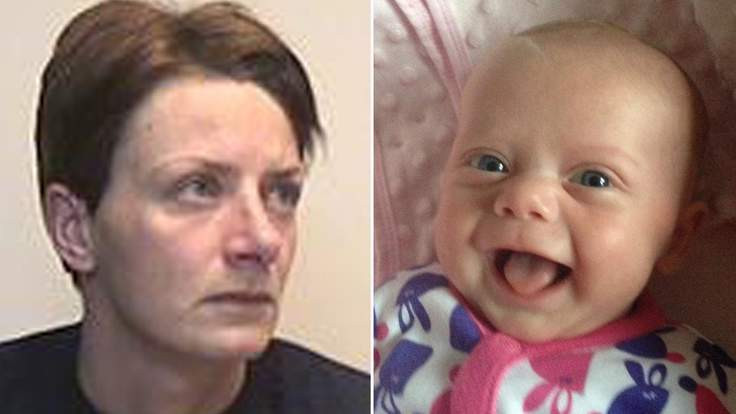 A mother who admitted killing her baby after suffering postnatal depression has been jailed for three years.
Erin Sutherland, 36, smothered her ten-month-old daughter Chloe at a home in Edinburgh's Parkhead View in February.
She was initially arrested for the murder of the baby, but later pleaded guilty to the lesser offence of culpable homicide on the grounds of diminished responsibility.
A court heard that Sutherland had previously received hospital treatment following the birth of an older daughter when she was diagnosed with postnatal depression (PND) in 2006.
Her symptoms worsened when the child was eight months old and led to her becoming an in-patient.
The High Court in Edinburgh heard post-natal depression was no longer considered a factor after the child was more than six months old.
Advocate depute Iain McSporran earlier told the High Court there "appears to have been a severe recurrence of PND at the time of Chloe's death".
Defence counsel Gordon Jackson QC described the case as "extremely tragic", adding that Sutherland also intended to take her own life.
Judge Lady Wise said it was "regrettable" that Sutherland had not received the support she so evidently needed for her depression.
Sutherland was sentenced to serve three years' imprisonment with a hospital direction, meaning her treatment for mental health problems will continue and she will only go to jail once she had completed hospital treatment for psychiatric difficulties.
"The circumstances of this case are tragic for all concerned and nothing I say today can alleviate the suffering of those who have lost Chloe," Judge Lady Wise said.
Chloe's father Craig Steedman was present in court for the sentencing. A statement was read on his behalf outside the court afterwards by Tracey Curran from Victim Support Scotland.
"Chloe's father Craig and his family are upset and saddened that the focus of reports on this case turned to how the system had failed Erin Sutherland and not the death of his precious little girl," she said.
"Chloe was the victim in this case, a beautiful innocent child whose tragic senseless death is impossible to accept. Craig and his family deeply regret that Erin felt unable to accept the help and support which they were so desperate to provide.
"Sadly she seemed determined that Chloe would never be a part of either his or his family's lives. The system may have failed Erin, however it has also failed Craig as a father and most importantly it failed Chloe - his much-loved little girl who will be forever missed."