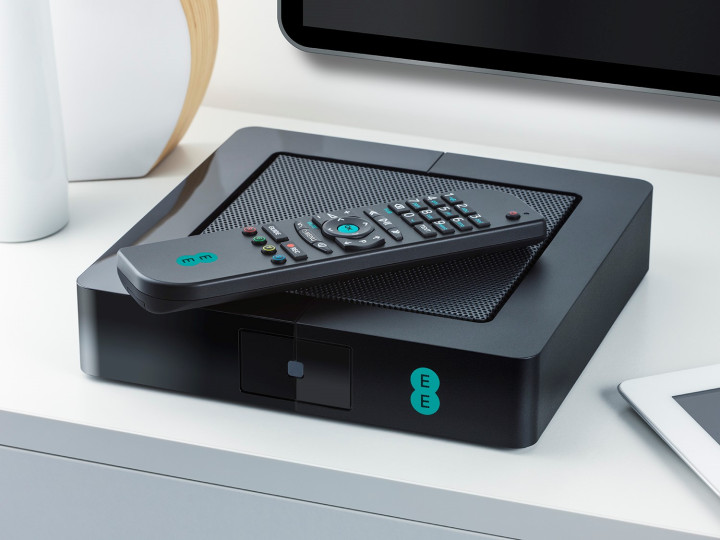 EE has become the first mobile operator to offer set-top boxes for TVs in an effort to capitalise on the growing on-demand TV market.
EE TV was unveiled at the company's London headquarters on 8 October, 2014, revealing a similar device to the YouView box used by BT and TalkTalk, but putting mobile "at the heart of the TV viewing experience".
EE TV is free for new and existing EE mobile customers who also subscribe to EE Broadband plans of £9.95 a month or above. The exact date of launch is yet to be confirmed, though a spokesperson for EE said that it would be available "shortly".
EE TV offers over 70 free channels (13 in HD), Pause, Rewind, Record, and Catch Up and On Demand services with HD quality. The set-top box comes with one terabyte of storage that allows the recording of up to 600 hours of TV or video, as well as dual-band Wi-Fi.
Up to four different channels can be viewed across different screens or devices. Using a smartphone or tablet as a digital remote control, users can flick what they are watching on the device to a networked TV screen.
"We're seeing a more active, snacking attitude towards watching television," said Olaf Swantee, CEO of EE. "Simply put, the couch potato is cooked.
"People want freedom, flexibility and control over their television viewing activities. People want to watch TV wherever they are - inside and outside their home - and on all sorts of devices."
According to Swantee, EE TV only took one year to go from initial concept to final product, developing the set-top box with France-based firm Netgem.
"EE TV has been designed with today's consumers in mind and it really does offer something new," Swantee said. "It is time for a new era, it is time for EE TV."