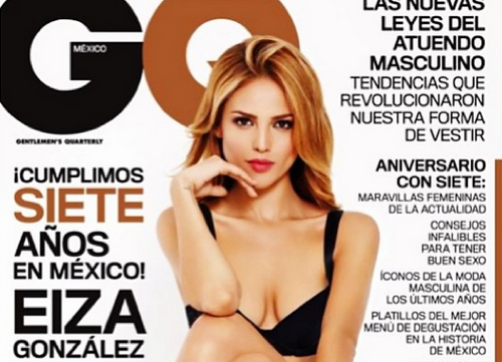 Mexican actress/singer Eiza Gonzalez is sizzling hot on the cover of GQ magazine Mexican edition.
In the photo posted by the 23-year-old in her Instagram account, Gonzalez is seen in a black bra, long black socks, and strategically covering her bottom with a top hat.
"Helloooo!!! @GQMexico portada Noviembre de Aniversario Felices 7 años!!!" she wrote, wishing the magazine, for completing its seventh year.
Gonzalez made headlines after she was spotted kissing Australian actor Liam Hemsworth at her apartment complex in Beverly Hills, California, soon after he announced his split from pop star Miley Cyrus. The Hunger Games star and the daughter of former model Glenda Reyna have remained tight lipped about their fling since then.
However, a recent post on her Instagram have raised eyebrows on their relationship status.
"I am like a book. Apparently a boring one. Easy to throw away. You don't know if it's there or not; but once you open it you notice, for each page, that I hide a secret, that I am not like you and that I much better than the people who are trying to tear me down. That I have magic, that I have imagination, that I am full of inspiration and full of riddles, that I am a mystery, but you don't know because I am one of these books nobody reads," the picture note read.