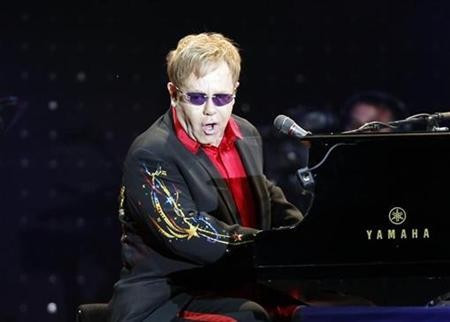 Sir Elton John has been forced to bow out of a string of concerts after being hospitalised with a serious respiratory infection.
The 65-year-old British singer is being treated at the Cedars-Sinai Medical Centre in Los Angeles for the illness.
He had been due to perform his The Million Dollar Piano show at Caesars Palace in Las Vegas.
In a statement released through his website, the star apologised to disappointed fans for the cancellation and promised that he would be back to performing soon.
He told fans: "All I can say to the fans is 'sorry I can't be with you'.
"I love performing the show and I will be thrilled when we return to the Colosseum in October to complete the 11 concerts."
The Candle in the Wind hitmaker said that he developed the illness while performing last Sunday and after the condition worsened, he was hospitalised, given antibiotics and told not to perform for a week.
This is not the first time the singer has had to cancel a gig due to ill health. Back in February, he cancelled two concerts after he came down with food poisoning.
Fans with tickets for the cancelled shows will be able to exchange them or get a refund.
John began his three-year headlining stint in Las Vegas in September last year.