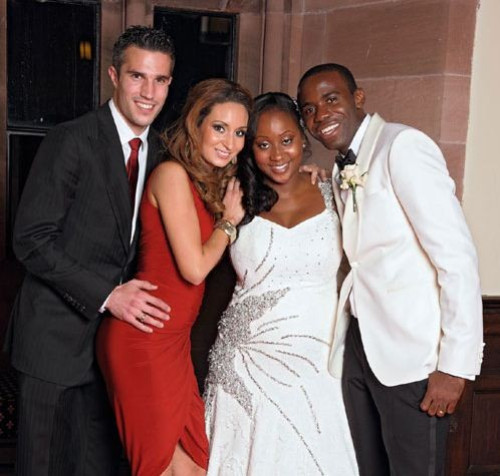 Former Bolton Wanderers midfielder Fabrice Muamba has tied the knot to Shauna Magunda in a star-studded ceremony. The fairy tale wedding of the miracle footballer was watched by Premier League players Robin Van Persie and Jason Roberts.
The newly wedded couple is pictured in the latest edition of Hello! magazine along with Manchester United striker Van Persie and his wife Bouchra. The duo's three-year-old son Joshua was the pageboy for the ceremony which was held a week ago.
"This year has been a difficult one but, to me, marriage is the happy ending," Muamba told to the magazine.
Dr Sam Mohiddin from the London Chest Hospital, was one of the men who saved his life was at the wedding too.
"Seven months ago this day was completely inconceivable. I just feel elated for Fabrice and Shauna, and so honoured to be here to celebrate with them," he said.
Other guests present at the ceremony include former Manchester United striker Andy Cole and Muamba's Bolton team-mates Stuart Holden and Martin Petrov.
The former England youth international was forced to quit football after collapsing on the pitch last March, during an FA Cup clash against Tottenham Hotspur. The star was technically dead for 78 minutes, during which time a defibrillator was used 15 times by medics in a bid to restart his heart. Muamba was brought back to life by their efforts and then went on to amaze experts by making a swift recovery. He even carried the Olympic flame in London ahead of the Olympic Games to the delight of fans and well-wishers.
Van Persie admitted that the day was on one of the best occasion to mark his come back of the life-threatening incident.
"Today is particularly special because of what happened to Fabrice. The cardiac arrest had a big impact on everyone in football, and we all lived the moment as Fab recovered in hospital. Everyone is so relieved and happy for him and Shauna, and Bouchra and I are grateful to be part of this day," he said.
"Am I the only one that can't find matching socks on a Monday morning. On a brighter note our wedding pics are in@hellomag today," Shauna Muamba tweeted.