Facebook is working on a mid-range, standalone virtual reality headset. The device, currently nicknamed Santa Cruz, will sit between the Gear VR and Oculus Rift in Facebook's product line-up in terms of affordability, and will likely count Google's recently-announced Daydream View amongst its main competitors.
Generally speaking, virtual reality currently forces users to choose between basic, budget headsets such as those supported by Google Cardboard, and the high-fidelity yet costly experiences afforded by devices like the Oculus Rift and HTC Vive. Samsung's Gear VR, also powered by Facebook's Oculus, goes some way towards locating a middle ground in terms of affordability, but compatibility is limited to a handful of Samsung devices.
There is, therefore, a need to target consumers who want an affordable but high-quality VR headset that isn't tied down to a mobile device or PC. A number of tech companies are now developing such devices, including Intel, Qualcomm and Alcatel.
Speaking at the Oculus Connect conference in San Francisco on 6 October, CEO Mark Zuckerberg acknowledged that virtual reality needs to offer more wallet-friendly experiences while not sacrificing too much on quality.
"We believe that there is a sweet spot, a standalone virtual reality product category that is high quality and affordable, and you can bring with you out into the world," he said. "We're working on this now. It's still early, so don't get your hopes up too much."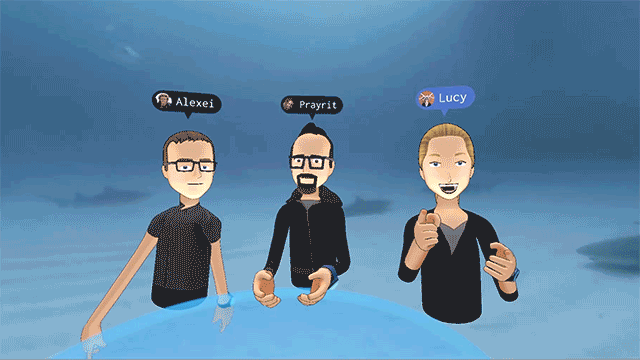 Zuckerberg briefly showcased the Santa Cruz prototype on stage while showcasing the updates in Facebook's social VR platform. First demoed back at the F8 conference in April, the software now features more accurate avatars capable of portraying basic facial expressions based on voice analysis.
The social VR platform was noticeably more feature-rich than it was at its initial debut, with Zuckerberg and his colleagues able to more deeply engage with each other within the virtual space. All of this was shown running on Facebook's new wireless device, although neither it nor the social VR software were given a release date.
Facebook will be keen to push a mid-range virtual reality product given the imminent arrival of PlayStation VR and Google's Daydream View, both of which promise to offer high-quality virtual reality at a more affordable price. While both headsets are tied to external devices, they are expected to be popular due to the large user bases of the PS4 and Android smartphones.