Far Cry 4's full map has leaked ahead of the game's release next week, showing off the extent of the Ubisoft Montreal game's enormous fictional Himalayan country of Kyrat.
The map (via VG247) shows six key regions, landmarks such as an airport, some factories, a monastery and a Royal Fortress, and the location of the game's various species.
Animals signposted on the Far Cry 4 map include yaks, rhinos, tigers, hone badgers, wolves, bears, demon fish, pythons and the game's real stars, the elephants players will be able to ride into battle.
This map might not be as it appears in-game, it could instead be the design of a physical map included in the game's physical release.
You can see the map below...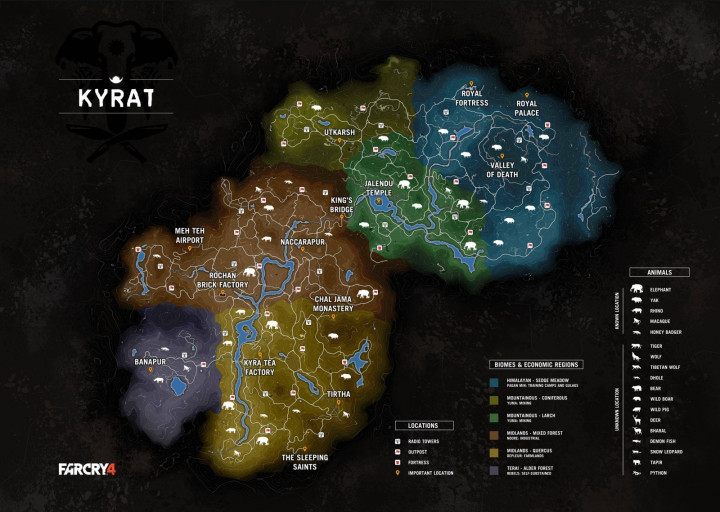 Kyrat seems to be roughly the same size as Far Cry 3's Rook Islands, if not a little smaller. Given it was made for next gen systems with a big graphical overhaul, this isn't a big surprise but to be comparable to the last game is an achievement in itself.
For comparison, here is Far Cry 3's map.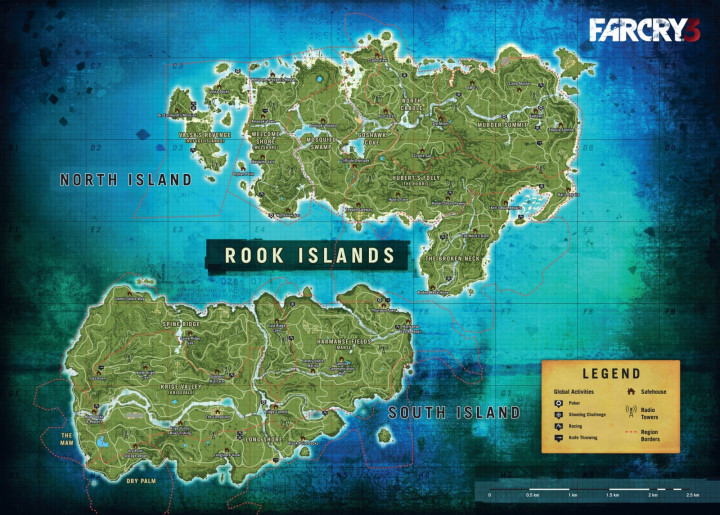 Far Cry 4 puts players in the boots of Ajay Ghale, a native who returns to Kyrat to find it in the midst of civil war thanks to the tyrannical rule of self-appointed king Pagan Min. It will be released on 18 November for PlayStation 4, Xbox One, PC, PS3 and Xbox 360.