As Rogue One: A Star Wars Story, hits cinemas (read our review here), IBTimes UK takes a closer look at the life and times of its British star Felicity Jones – who plays Jyn Erso, the first female lead in the franchise
Childhood and early acting career
Felicity Rose Hadley Jones, born 17 October 1983, grew up in Bournville, Birmingham. Her parents were successful in the creative industries: her mother Julia Hadley working in advertising and her father, Gareth Jones, plying his trade as a journalist.
The 33-year-old credits her uncle, actor Micheal Hadley of Pirate Radio fame, as being a key inspiration behind her desire to become an actress.
Her first role came aged 12 in the British 1996 TV movie, The Treasure Seekers, which costarred Keira Knightley.
She then went on to feature as bully Ethel Hallow in popular children's TV show The Worst Witch and its sequel, Weirdsister College between 1998-2001. Based upon books by Jill Murphy, the series followed the adventures of Mildred Hubble (Georgina Sherrington), a witch attending Cackles Academy who persistently found herself in trouble.
Jones was trained by mentor Colin Edwards during this time, who was in charge of the Central Junior Television Workshop for 25 years from 1986.
Edwards spoke affectionately about his protege, commending her down-to-earth work ethic:
"The first time I met Fliss she was with her dad, Gareth, I told him she would have to audition like everyone else – I met him at the Dirty Duck in Stratford and Fliss was in tow," he told Birmingham Mail.
"She was a waif-like creature, very attractive in her own way but not at all pushy like, 'You'd better take me into your workshop!'"
Jones then moved over to the radio, landing a role as young Emma Carter on iconic BBC Radio 4 drama, The Archers.
Education
A break (of sorts) followed while the young actress focused on her education, ultimately securing a place at Wadham College, Oxford University to study English.
She subsequently graduated with a 2:1 degree. Not bad considering she reprised her role in The Archers during this time.
Jones had considered studying law, but later admitted to Birmingham Post: "I'm so thankful I didn't do that because I don't know if I would have survived it!"
"It was my English teacher who recommended that I do English at university," she added, also mentioning her drama teacher, Miss Mulhearn, was "so supportive" of her acting ambitions.
At Oxford Jones began dating artist Ed Fornieles, in a relationship that lasted for a decade and saw the couple live together in east London. However, the two broke up in 2013.
Rise to Hollywood
2011 proved a breakthrough year for rising star, who played the lead role in indie title Chalet Girl, before co-starring in the critically acclaimed romantic drama Like Crazy, winner of the Sundance Film Festival Grand Prize.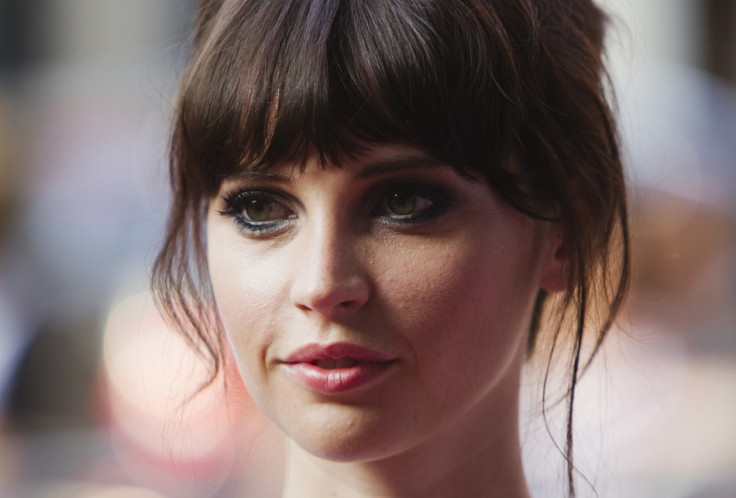 Jones formed a close friendship with on-screen lover Anton Yelchin. Yelchin came to fame after taking the role of Chekov in JJ Abrams' Star Trek movie reboots, but tragically died earlier this year, aged 27, after being crushed by his car in a freak accident.
Opening up about his death during an interview with the Hollywood Reporter, Jones admitted the loss had "been devastating".
Fun fact
Jones told the Birmingham Mail "acting is like a drug".
"It's something I can't live without. Definitely. I can have a few months off until I'm ready to go back into it, and then it feels like home."
"It doesn't feel like there's any justice or there's no way of understanding it, really. It's just been a very difficult time for his family. They're very dignified, beautiful people.
"He was just like no one else. He really was a unique soul."
Jones finally hit Hollywood in 2014, making a first blockbuster appearance in The Amazing Spider-Man 2, playing the assistant of Harry Osborn (aka Green Goblin).
Oscar success
But Jones' big break came later that year, when she played Stephen Hawking's wife Jane in The Theory of Everything – a biopic on the famed scientist.
The role demanded a performance that covered a breadth of emotions as Jane comes to terms with, and cares for Hawking (played by Eddie Redmayne), while he battles with amyotrophic lateral sclerosis – a motor neurone disease.
Jones duly rose to the challenge and received BAFTA and Oscar Best Actress nominations. Despite ultimately losing out to five-time nominee Julianne Moore for Still Alice, her profile shoot up indelibly within Hollywood as a result.
Fun fact:
Jones has admitted her Birmingham accent comes out after a "few drinks"; "two glasses of white wine," to be exact!
Redmayne won the best actor Oscar and the film was nominated as best picture.
Off-screen The Hollywood Reporter revealed Jones began dating British commercial director Charles Guard around this time, but the couple managed to keep it quiet until 2016. Cheeky.
Star Wars pioneer
Jones' career took another giant leap forward late last year when she was confirmed as the lead in Gareth Edwards' Star Wars spin-off, Rogue One, released in the UK earlier this week.

Jones plays Jyn, a tough female lead character tasked with stealing plans for the Death Star in the events prior to A New Hope - the 1977 instalment of George Lucas' original trilogy.
Jones' performance has been heralded as a great modernising step, as the first lead-role given to a woman in the franchise. Last year's Star Wars: The Force Awakens, also saw its director J.J. Abrams place Daisy Ridley in a prominent role as Rey.
The future?
Rogue One caps off a huge year for Jones, who also featured alongside Tom Hanks in Inferno and will soon next appear as a cancer-stricken mother in A Monster Calls, released in the UK on New Years Day.
Who knows where the future will take Jones next, but with an appetite to break convention, it is sure to be exciting.