Topless Femen Protesters Attack Heidi Klum During Finale of Germany's Next Top Model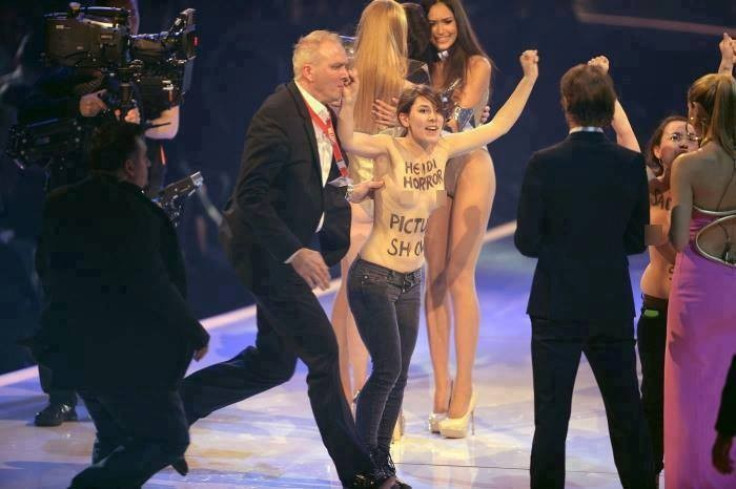 Topless members of Ukrainian feminist group Femen have gatecrashed the finale of Germany's Next Top Model, a television show hosted by supermodel Heidi Klum.
Shortly before Klum announced Lovelyn Enebechi as the winner, two topless women rushed the stage with the words "Heidi Horror Picture Show" written across their chests. However, security guards quickly removed the women from stage and the show continued.
"I have just been seeing boobies in front of me. Too bad it happened at this special moment!" Klum told the crowd.
The organisation, founded in 2008, has attracted global attention with its signature topless protests, fighting for women's rights. The group took to Facebook to reveal the reason for their act.
"FEMEN disrupted the live broadcast of Germany's most popular casting-show Germany's Next Top Model," the note read, "The programme format is pimp-show where world-famous supermodel Heidi Klum plays the role of 'mom' and forms a bevy of underage girls to fashion-fools. The unauthorised appearance of FEMEN sekstremists at the epicenter of the show broadcasted live made the organisers and participants in the state of torpor."
"FEMEN sekstremists managed to make their accusations in the face of fashion-fascist ideologist of the show Heidi Klum in front of 15000th stadium and the millions of TV viewers audience. FEMEN regards the fashion industry as an element of pimp business and has consistently opposed the commercialisation of the female body. Every year the fashion business millstones grind hundreds of thousands of girls, promoting the brilliance and richness of modelling career, forcing women to false ideals, provoking a real disease. Fooled by fashion propoganda, failed by fashion models, women regularly join the ranks of sex workers, and psychiatric patients. Stop the fashion business! Stop Prostitution! The true mission of a woman is a revolution!" it added.
© Copyright IBTimes 2023. All rights reserved.