Prince William has urged FIFA to reform and show "it can represent the interests of fair play and put sport first."
In an impassioned speech at the FA Cup final, the Duke of Cambridge, who is President of the FA, asked sponsors to use their influence to press for reform following the corruption scandal that has rocked the world of football.
Seven FIFA officials were arrested and 18 people connected to football were indicted on charges of bribery, racketeering and money-laundering, involving tens of millions of dollars since 1991, by the US justice department earlier this week.
Speaking ahead of the match at Wembley, the Duke of Cambridge drew comparisons between the ongoing corruption scandal plaguing football's world governing body, to the Salt Lake City Olympics corruption crisis.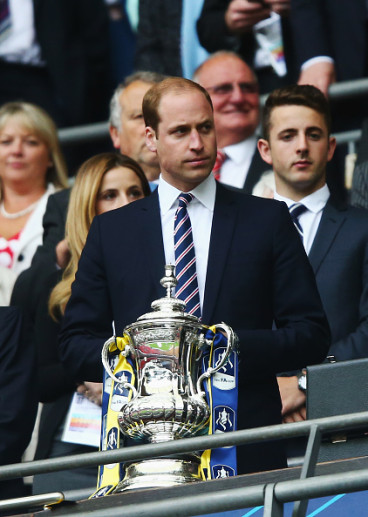 The Duke said: "The events in Zurich this week represent FIFA's Salt Lake City moment, when the International Olympic Committee went through a similar period of serious allegations. FIFA, like the IOC, must now show that it can represent the interests of fair play and put the sport first."
"Those backing Fifa, such as sponsors and the regional confederations, must do their bit to press these reforms - we are doing football and its fans no favours if we do not," he added.
"I have no doubt that when Fifa reforms, its mission to spread the benefits of the game to more people, especially those in developing countries, can only be enhanced."
His comments come a day after Sepp Blatter was controversially re-elected as the FIFA president for a fifth time.
Earlier today, Mr Blatter insisted he is the man to lead the world football body through its current crisis. Speaking at a press conference in Zurich, Mr Blatter said he has the backing of the organisation's executive committee going forward, as he attempted to downplay the US criminal proceedings launched against Fifa officials earlier this week.
"I am still the man to go into these problems and to solve these problems," he said.
Blatter further denied he was the unnamed senior Fifa official who allegedly authorised the payment of a $10m bribe to disgraced former Fifa vice-president Jack Warner. "Definitely that's not me. I have no $10m," Mr Blatter said.
The allegation is contained in the US Justice Department's indictment which states, "a high-ranking FIFA official caused payments... totalling 10 million - to be wired from a FIFA account in Switzerland to a Bank of America correspondent account in New York... controlled by Jack Warner".
When asked if he was worried about being arrested in the corruption investigation, he responded: "Arrested for what? Next question."
Meanwhile, Swiss authorities have launched a separate criminal investigation into the awarding of the 2018 and 2022 World Cup tournaments to Russia and Qatar.
A leading American investigator earlier said he was "fairly confident" there would be more arrests in the scandal.