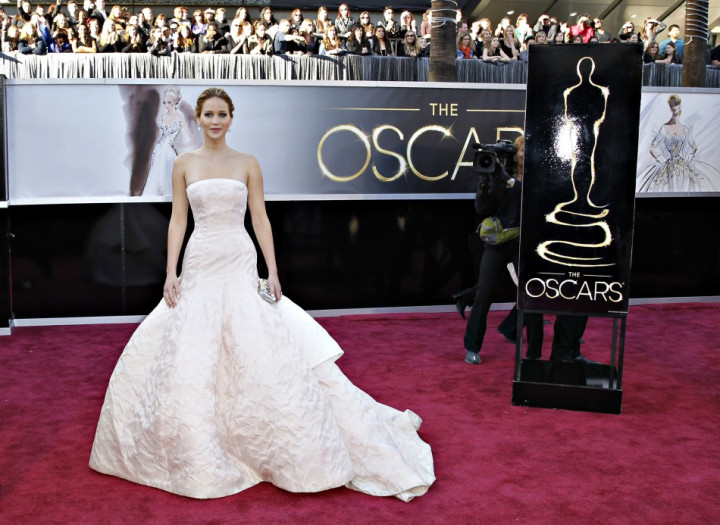 Oscar-winning actress Jennifer Lawrence is reportedly the favourite pick to play Anastasia Steele for the Fifty Shades of Grey film.
According to Hollywood Life, the film producers feel the Silver Linings Playbook star is best suited for the 21-year-old college senior role in the film version of EL James's best-selling book.
"If producers can have it their way, JLaw will play Anastasia Steele in the Fifty Shades of Grey films," an insider close to production told the celebrity gossip website.
The source also revealed that the movie will begin shooting in London, in spring of 2014.
Lawrence, who presented the first Advocate for Change award to former US President Bill Clinton at the GLAAD Media Awards, is already involved in another huge franchise, The Hunger Games.
Kentucky-based photographer Chris Kaufman recently revealed a series of photographs of Lawrence, who he met when she was 12, and said she "had a maturity beyond her years."
"'When I first took her picture, I stopped shooting and I turned to my assistant and said, 'You don't see people move like that,'" Kaufman recalled, "'I was thinking she moved like Gisele [Bündchen], and I've seen Gisele in person. It was like, 'Where did you get this ability?'"
"She's not going to care what she says, and the charm of her is that she will tell you what she's thinking. She will totally slip up one day and say something ridiculous but totally overcome it," he added.
A number of other glamorous actresses including Mila Kunis, Kristen Stewart, Kate Beckinsale, Anna Kendrick, Ashley Greene and Alexis Bledel have also been linked with the highly anticipated Anastasia Steele role.
Harry Potter star Emma Watson confirmed on Twitter that she will not play the role of Steele, after frenzied media speculation.
Meanwhile, Magic Mike star Alex Pettyfer has reportedly shot a sex scene for a Fifty Shades of Grey screen test with two-time Oscar nominee director Gus Van Sant.
According to The Wrap, the 23-year-old actor, playing Christian Grey, shot the scene where Steele loses her virginity. However, neither Van Sant nor Pettyfer has been officially selected by Universal for the film.
READ: Fifty Shades of Grey: Alex Pettyfer Shoots Steamy Screen Test as Christian Grey