Fifty Shades Of Grey: This Morning 'bondage for beginners' segment gets over 70 complaints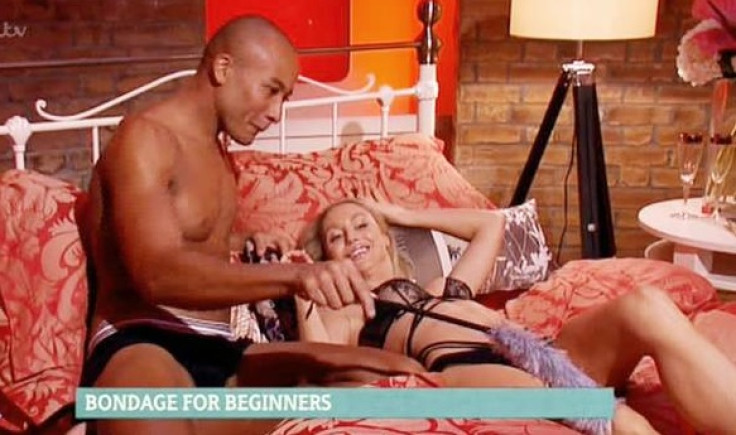 Scores of This Morning viewers were left unimpressed when they tuned into the daytime ITV show on Wednesday morning (5 February) only to get a dose of bondage.
Ahead of the highly anticipated release of the Fifty Shades Of Grey movie, based on EL James' best-selling erotic novel, hosts Phillip Schofield and Christine Bleakley hosted Bondage For Beginners.
During the raunchy segment, the duo put the hottest sex toys on the high street to the test, with Schofield even trying out a nipple clamp.
They were joined by "sexpert" Annabelle Knight and two scantily clad models who demonstrated how to use crystal body wands, among other things. At one point, Schofield admitted to being "distracted" by the models.
Although This Morning had warned those at home about the feature's sensitive content, Ofcom received more than 70 complaints from viewers who did not appreciate the early morning kinkiness. The outrage even spilled on to Twitter.
But it was not all bad. Some people found it humorous that the presenters were discussing sex toys on daytime TV.
An ITV spokesman said: "This Morning is a lifestyle programme that covers a diverse range of human interest topics. The programme has dealt with advice on sexual matters many times in the past and a suitable announcement was given at the start."
Fifty Shades Of Grey, which is set for worldwide release on Valentine's Day (14 February), stars Dakota Johnson as submissive Anastasia Steele and Jamie Dornan as her bondage-obsessed playboy billionaire, Christian Grey.
© Copyright IBTimes 2023. All rights reserved.