Campfires, gore and, of course, cabins are familiar territory when it comes to teen horror movies these days. You only have to look at films released in the past few years such as Cabin In The Woods, Evil Dead and Tucker & Dale vs. Evil to notice. But film-maker Eli Roth has decided to take homage one step further than that. By producing an almost identical-looking remake of one of his own movies made 14 years ago.
Directed this time by Travis Zariwny (Scavengers), the film will tell the same story all over again – a group of twenty-somethings travel to a glorified wooden shack in the middle of the woods to kick back, relax and have a bit of a party. Only, shortly after they arrive, they become plagued by a flesh-eating virus that makes its way around the gang, inevitably killing them off one-by-one.
Now, the film isn't out yet so just how extensively similar his upcoming Cabin Fever movie is to the 2002 original is far from definitive, but if its first trailer is anything to go by, fans better expect to recognise a lot of scenes. In the sneak peak, we catch glimpses of many plotlines we saw in the first film including a sex session gone wrong, some smooching on some decking and the infamous leg-shaving sequence when one of the characters hops into the bathtub only to realise her skin is falling off. Big fans of the original will even notice the familiar shot that shows one of the demised vacation-takers sprawled out on a mattress in a shed...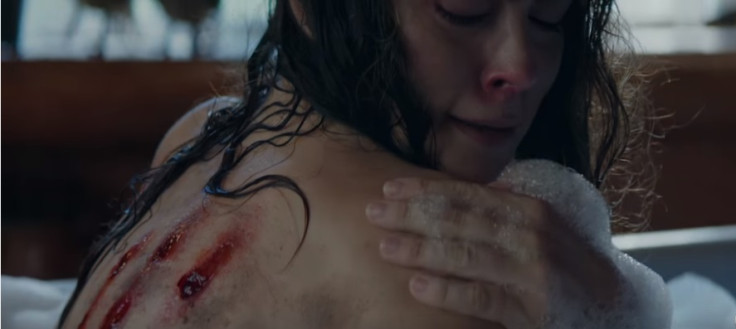 The unlucky young'uns this time around are played by Gage Golightly (Teen Wolf), Dustin Ingram, Samuel Davis, Matthew Daddario and Nadine Crocker. Roth is acting as executive producer and is also credited as writer, but not because he's rehashed the script, but because Zariwny worked from the exact same screenplay that Roth co-wrote with Randy Pearlstein back when he was making the original.
The only real difference between this film and the original seems to be the threat that the friends at the cabin are under. In the first movie, it was only really the virus that was picking off each of the characters as they came into contact with one another, either unknowingly or for necessity. In this take on the story, it seems like the locals are a bit fed-up of everyone getting infected near their whereabouts and take themselves on a bit of a hunting spree to eliminate those that carry the bacteria before it spreads. There's also the added bonus of bloodied angry dogs and machine guns in this one too!
"Travis had an amazing vision for my original script," Roth said previously, when this project was announced, "and as a scary movie fan I really wanted to see it. I almost see this like restaging a play."
The new Cabin Fever gets a limited release in the US on 12 February.
For more entertainment news follow A-List on Twitter @Alistinsider