You may have possibly heard already; but there is a fight happening this Saturday (26 August). After months of bombastic build-up, fight week has arrived in Las Vegas and Conor McGregor, Floyd Mayweather and their respective camps and promoters have had their final opportunities to squeeze the last ounces of hype out of the raucous, cross-code spectacle.
Amid the media frenzy that has followed both fighters up and down the Vegas strip there has been ample opportunity for wild rumour and sensationalist news lines to emerge. IBTimes UK picks the best to emerge over the last five days.
Paulie Malignaggi confronts McGregor face-to-face
Malignaggi, who called time on his boxing career in March, was recruited by the McGregor camp for the final leg of their training camp state-side, brought into spar with the Dubliner and sharpen him up for fight night. McGregor's team have been diligently documenting every step of his camp, keeping us all updated via social media, so when the UFC superstar rocked the former two-weight world champion with a thunderous left in one session, the footage was everywhere.
The emergence of the footage, released by UFC president Dana White, led to Malignaggi quitting the camp, insisting it was an inaccurate representation of what actually went down in the gym. He insisted he had been pushed, telling McGregor: "If you have any balls, release what really happened."
It culminated in what was a pretty tense confrontation between the two on the Vegas strip at the beginning of the week with McGregor instructing the New Yorker "to get over it." It wouldn't be the last time we saw Malignaggi ahead of the fight.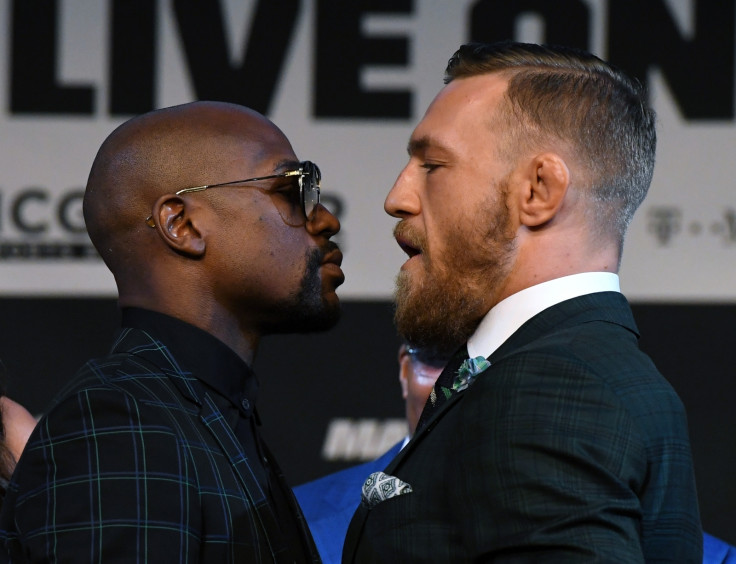 The Paulie Malignaggi and Floyd Mayweather conspiracy
Now here is where things get interesting. Was Malignaggi a plant in the McGregor camp all along? Almost certainly not, but it was a notion he and Mayweather gleefully played up on Thursday. The now-retired fighter made a pit stop at Mayweather's gym to wish the 40-year-old good luck, even getting an autograph from the five-weight world champion. Throughout the video recorded by Fighthype, Malignaggi persistently mutters "suckers" at the camera, all the while grinning like a Cheshire cat. Mayweather then suggests his new buddy will be crashing with him the night before the fight to discuss "strategy."
Let's give Malignaggi the benefit of the doubt here and assume he hasn't been leaking sensitive information about such a recent sparring partner, a capital crime for boxing purists. Let's assume the meeting with Mayweather was nothing more than a tactic to throw McGregor and enrage his rabid support. In terms of the latter, it certainly appears to have worked. Search the words 'Malignaggi' and 'snake' on Twitter for your proof.
Was Floyd sick?
Wednesday's final press conference was a far more civilised affair than what we saw on their wild world tour in late July. Mayweather spoke magnanimously about his opponent, telling reporters: "Conor McGregor had a hell of a career, he's still got a hell of a career. He's a hell of a fighter, he's a stand-up guy, a tough competitor." The effusive praise was delivered not in Mayweather's usual confident tone, but one rather more hoarse, perhaps a result of weeks of bellowing "HARD WORK" at anyone who will listen. Social media speculated if Floyd might have come down with something. But the fact that one of the fighters deciding to speak without rancour prompted speculation that he might be ill tells you all you need to know about how wonderfully ridiculous this whole show has been.
McGregor and Mayweather to fight for the 'Money' Championship because why not
During their final press conference on Wednesday, a thoroughly drab affair dominated by execs glowingly paying tribute to each other, WBC President Mauricio Sulaiman had one last surprise for us; The Money Belt. Suliamian gleefully informed us the gaudy strap that would even make Ted Dibiase cringe in embarrassment will be awarded to Saturday's victor. It features 3,360 diamonds, 600 sapphires, 300 emeralds, 1.5 kilograms of gold and made of alligator leather. Obviously.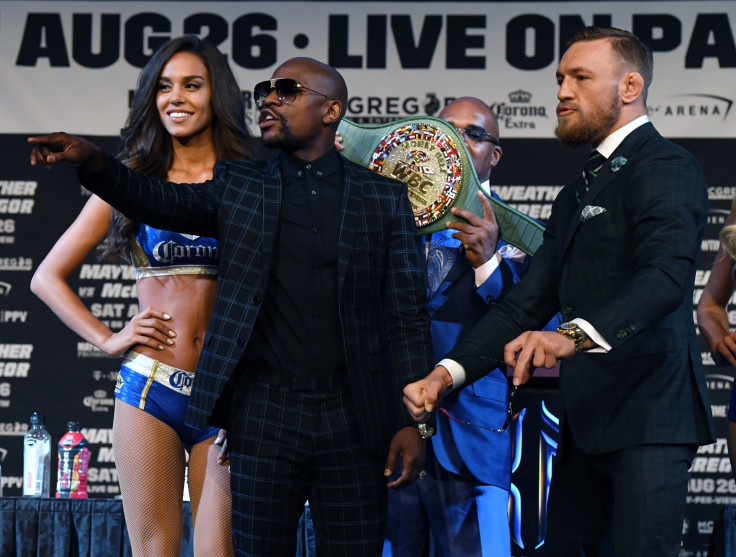 Conor McGregor using IV bags to cut weight
Mayweather this week suggested McGregor will struggle to meet their 154lbs catch weight when they step on the scales on Friday, mischievously suggesting his opponent has resorted to foul play to help him make that target.
In an interview, with MMA Fighting, Mayweather shared a rumour he had picked up this week, relaying a claim that McGregor has been using IV bags. "He better be trying to get his weight down, my weight is down.
"I know he's over right now, what he weighs. What I was told, I do my homework, I've been hearing a lot about him getting IV bags. "I don't know if it's true... rumours. He got seven IV bags. You know with the Nevada commission, that's illegal."
IV bags are prohibited by the Nevada State Atheltic Commission but McGregor's promoter Dana White rubbished suggestions of foul play in an interview with TMZ.
Conor McGregor Jnr suits up for fight night
While he is just three months old, Conor Jack McGregor Jnr could end up comfortably outdressing most in attendance on Saturday. McGregor Snr showed his softer side by sharing a picture of his son decked out in a three-piece suit – reportedly designed by David August Heil, the folks responsible for McGregor Snr's infamous 'f**k you suit' worn at a press conference in Los Angeles last month. McGregor Jnr wore a toned-down version.