Students and workers held street protests across France against the government's proposed labour reforms. While most demonstrations were peaceful, some turned violent. Hooded and masked protesters hurled paint bombs at banks and shops in eastern Paris. Some smashed cash machines with bats or set off smoke canisters while confronting the police.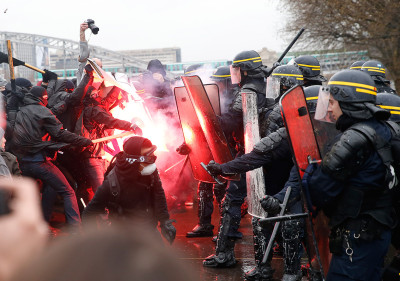 Clashes also broke out between a small group of young protesters and the police in the western cities of Nantes and Rennes.
The day of protest, the fourth in a month, has been billed by local media as a make-or-break test of strength for President François Hollande, plagued by low popularity and an unemployment rate stuck stubbornly above 10 percent as mid-2017 elections loom.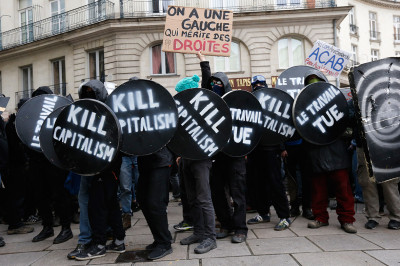 Train drivers, teachers and others went on strike to reject a government reform to amend the 35-hour working week, among other labour rules. The strike affects schools, public hospitals and state-owned broadcasters – it is not affecting the capital's Charles de Gaulle airport, though 20 percent of flights at Paris' Orly airport have been cancelled.
State railway company SNCF has warned of disruptions to national and regional train traffic though international lines to London and Brussels should not be affected. The Eiffel tower is closed all day with the company operating the monument , in a statement, saying that there is not enough staff to open the tower with "sufficient security and reception conditions".
One of the issues is a proposed overhaul of France's labour code, a set of regulations that bosses claim deters recruitment. Critics say the reforms will lead to worse working conditions and more sackings. However, the Socialist government and businesses claim the reforms would aid the economy by making it easier for companies to hire and fire workers as France's unemployment rate is hovering at 10 percent.