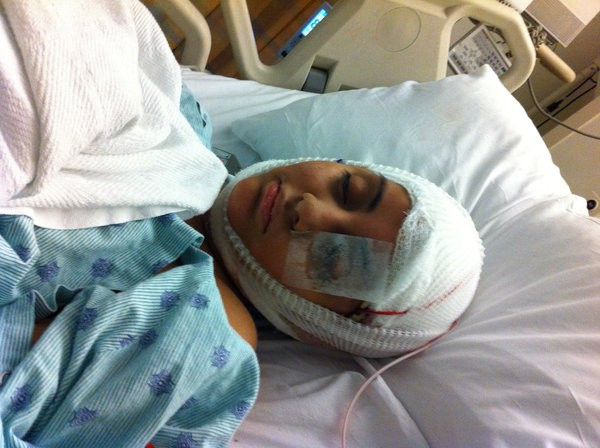 An aspiring actress who was left with serious brain injuries while working as an extra on the movie Transformer: The Ride 3D has received an $18.5 million payout.
According to court documents, Gabriela Cedillo, 26, was among about 80 extras driving their own vehicles as part of a stunt scene for Transformer: The Ride 3D on Sept. 1, 2010.
During filming in Cline Avenue in Hammond, Indiana, a cable pulling a car snapped and smashed through the windshield of the car that she was in.
The brunette was airlifted to hospital after the cable ripped through the right side of her head and she left her with severe injuries.
Cedillo's lawyer Todd Smith blames the "completely inadequate superficial weld had been applied in a failed effort to secure the bracket to the [stunt] car" for the incident he says could have been avoided.
He told NBC News: "I think they were well aware of what was going on out there. They were actually announcing on the radio that, watch out for the debris. The people were driving around, apparently, trying to dodge debris as they drove along."
Smith also claimed that, the makers of Transformer: The Ride 3D, Paramount Pictures and DreamWork's Studios, did everything they could avoid paying Cedillo's medical bills and compensation.
Cedillo is currently undergoing therapy at the Rehabilitation Institute of Chicago.
She has suffered hallucinations, memory loss and significant cognitive difficulty. She has also lost some movement on the left side of her body.
Her family lawyer told RadarOnline that she is struggling to get back to normality following the accident. "She appears to be quite impaired with her ability to understand and appreciate everything.
"I'm not saying she's not coping...and considering where people thought she would be, she's fortunate. But she has the function of a small child right now."