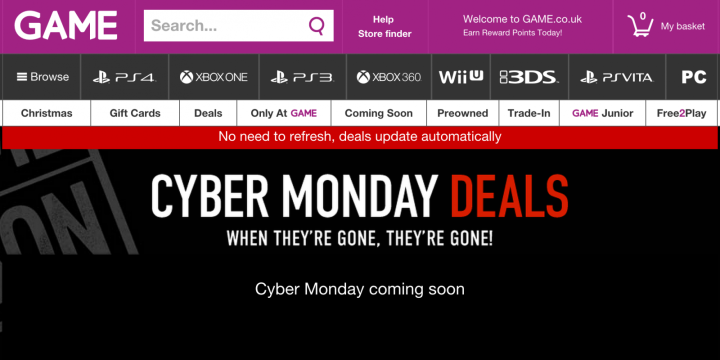 UPDATE 1 (12:30am) On the stroke of midnight Game's Cyber Monday website came to life, showcasing what will be included in a range of hourly deals kicking off at 8am.
Game's deals kick off at 8am, but we can already seen a teaser of what will be on offer. Games to be discounted include Lego Marvel Super Heroes NBA 2K15, Watch Dogs, Assassins Creed: Rogue, Forza Horizon 2 and more. Be sure to check back in the morning when these deals - and hopefully more besides - go live.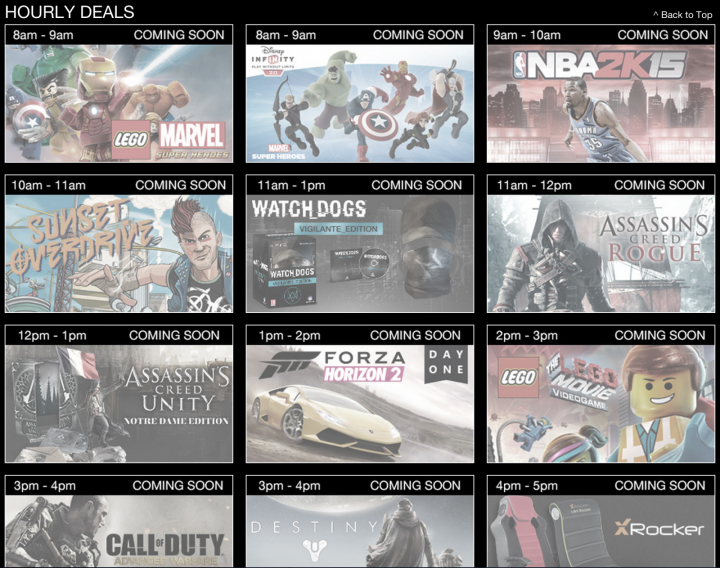 We'll update this article when the all-important prices are revealed in the morning.
ORIGINAL STORY: Video game retailer Game is readying a hidden page for Cyber Monday deals on its website, IBTimes UK has found.
Following on from its Black Friday deals and discounts, Game has a new mini-site called cybermonday.game.co.uk, which although not yet linked to be the main site, is live and will automatically reveal Cyber Monday offers when they become available.
Although Game's Black Friday deals can still be bought, look out for more discounted games, consoles, bundles and accessories for one day only on 1 December.
Black Friday saw Game's website - along with others - brought to its knees by huge demand from shoppers eager for a bargain. Tesco's website remained offline for more than 10 hours, while Currys employed a virtual queuing system to keep itself online.
Current Game offers include an Xbox One with Assassins Creed: Unity and Assassins Creed: Black Flag for £299.99. For Sony fans, the PlayStation 4 with Drive Club and The Last Of Us is also £299.99.
We'll keep our eyes peeled and update this article as soon as Game's Cyber Monday deals go live.
You should also check out our Cyber Monday live blog for the latest news on UK deals and discounts from across the web.
What is Cyber Monday?
The term was first used by Shop.org in 2005 when, after analysing traffic to its website, it noticed a spike in sales on the first day which people return to work after the Thanksgiving holiday. Although originating in the US, Cyber Monday is recognised by the UK, Canada, Brazil, Portugal and Germany, among others.
It is estimated that online spending in the UK will reach £649.6m ($1.02bn, €816.4m) during the day, according to information services company Experian and Interactive Media in Retail Group, the UK's industry association for online retail.