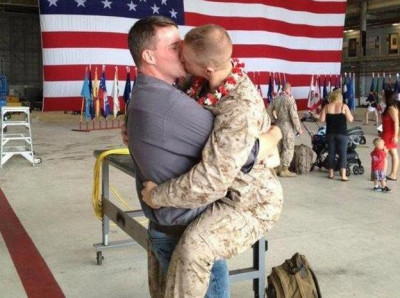 A photo of a Marine and his boyfriend sharing their first passionate kiss has gone viral after it was uploaded to Facebook.
The image, which shows Sgt Brandon Morgan and his partner, artist Dalan Wells, intimately embracing after six months apart, has also hit headlines across the globe.
Their reunion, which was captured the moment Morgan returned from Afghanistan to Hawaii, has attracted thousands of comments and tens of thousands of likes and shares.
Morgan, of Oakdale, California, explained that the pair's four-year friendship blossomed into long-distance love while he was serving with the US Marines in Afghanistan.
He told the Hawaiian news website Khon2.com: "We couldn't talk, I can barely talk now, his hands went numb, my legs were shaking, our first kiss after just knowing how we felt about each other."
Despite some media backlash, the iconic moment has been supported by the gay community, which believes that it is helping in the fight for equality in the military.
Petty Officer 2nd Class Marissa Gaeta of California and Petty Officer 3rd Class Citlalic Snell of Los Angeles broke the taboo in December when they were pictured sharing a passionate kiss as part of the traditional military homecoming kiss. It was the first military lesbian image to go public.
International Business Times UK takes a look at other famous gay kisses.