Gig economy comes under pressure to share the good times with its workers
Employment credentials of digital economy stars Uber and Deliveroo have withered under intense scrutiny.
The gig economy faces testing times. Two of the darlings of this industry are battling challenges that strike at the heart of the business models that won them billion dollar valuations in just a few short years.
Car-hiring service Uber began an employment tribunal case last month brought by 19 of the firm's drivers, with backing from the GMB union, who are arguing for holiday and sick pay as well as a guaranteed minimum wage. Uber says its 30,000 drivers in London are self-employed, and are responsible for their own working arrangements.
Upmarket takeaway delivery firm Deliveroo suffered wildcat strikes in London last week after the firm introduced a pilot scheme to pay £3.75 per delivery, instead of the present rates of £7 an hour plus £1 a delivery. The firm now says the scheme is optional.
Investors will closely watch developments at these two leading gig, or sharing, economy firms to see if they will be allowed to continue their fast growth on the back of ultra-low staff costs.
US firm Uber was launched in 2010 by co-founder and chief executive Travis Kalanick and could launch an initial public offering within 18 months at a valuation of around $63bn (£47bn).
While London-based Deliveroo, founded by former Morgan Stanley banker William Shu, in just three years, has set up operations in around 84 cities across 12 countries. Earlier this month it raised $275m in its latest funding round from private equity groups, valuing the firm at around $1bn. The business employs 6,000 people in the UK, half of them in the capital.
The stakes are high, because taken at face value, the gig economy is in rude health. The sector has seen a range of heavyweight investors from US investment bank Goldman Sachs to pan-European private equity firm Bridgepoint pile into this sector to fund the myriad of firms, with the expectation of lucrative public flotations in the future.
Companies such as unskilled manual labour firm TaskRabbit, storage firm Stashbee and VizEat, where strangers pay to eat at your home, all have investor backing.
All these firms share the same structure: online platforms that allow people to book short-term work.
Accountants PwC said the UK's "digitally literate and entrepreneurial population" has seen its gig economy grow at the fastest rate in Europe, with sales almost doubling to £7.4bn in 2015 compared to the year before.
But this sector is facing increasing criticism for the insecure nature of the thousands of positions across its businesses.
This sector employs workers as diverse as graphic designers and odd-job men to takeaway delivery cyclists, but most are classified as self-employed and do not receive traditional staff benefits such as sick pay or a guaranteed minimum wage.
This part of the workforce is becoming increasingly significant, the number of self-employed workers jumped 21% to 4.6m last year, according to figures from the Office for National Statistics last month. This accounts for around 15% of the UK workforce.
Michael Newman, a partner at law firm Leigh Day, which represents the Uber drivers seeking more secure employment rights, told IBTimes UK these workers are "a million miles away" from what is commonly understood as self-employment.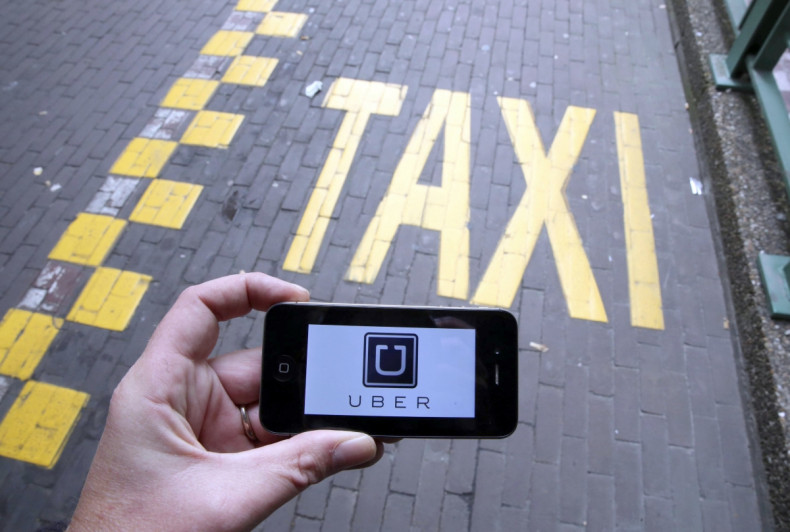 Newman said: "Workers in this area are given quiet strict guidelines to work within. They sometimes wear a company uniform. Risks that a firm would normally bear, such as slow demand are passed onto staff who does not get any work in slow periods. Yet when times are good the company does not share the profits."
"If you are truly self-employed you suffer in the bad times, but have a chance to make your fortune when times are good."
Veteran Labour MP Frank Field told IBTimes UK: "While it's good to see more people in the workforce, some of this work can be seen as bogus self-employment. It's a grey area and it needs clarity."
Critics add that the low wages many of these firms pay mean that most workers supplement their income with benefits or other jobs.
Deliveroo's Shu says that the key benefit his riders like about the firm is to be able to log on for work when they want, but he also adds that around 90% of his staff have other jobs.
A spokesman for Deliveroo told IBTimes UK the strike action in London is "beginning to dissipate" after almost a week from around 100 staff to around 20, after making the pilot optional. The firm is adamant the new scheme will boost rider's wages by an average of £2 an hour.
But Margaret Dewhurst from the Independent Workers Union of Great Britain, who backs the Deliveroo workers, told IBTimes UK: "People keeping calling these riders entrepreneurs. But they are just guys on bikes with two or three part time jobs trying to get by."
The Uber employment tribunal case is set to give its verdict in mid-October. This comes after cities in Spain, France and Germany, among others, have all clashed with Uber, which has angered heavily-regulated taxi drivers with its lean structure and low prices.
As a result the timing of Uber's initial public offering keeps getting rolled back until the firm's operating environment is clear. The firm currently has no shortage of backing from private sources, with it receiving $3.5bn from Saudi Arabian sovereign wealth fund Public Investment Fund in June.
The UK verdict is part of the move by authorities to adapt employment law drawn up to manage factory workplaces, to new technology that sets workers tasks sent by booking agents to an app on their phone.
Leigh Day's Newman said: "The tribunal ruling will not form a global precedent, but it will set the tone for how firms with a similar model should operate in the UK."