Google Pixel and Pixel XL: How to set up your new Android Nougat-powered phones
The Android flagships are now available for purchase.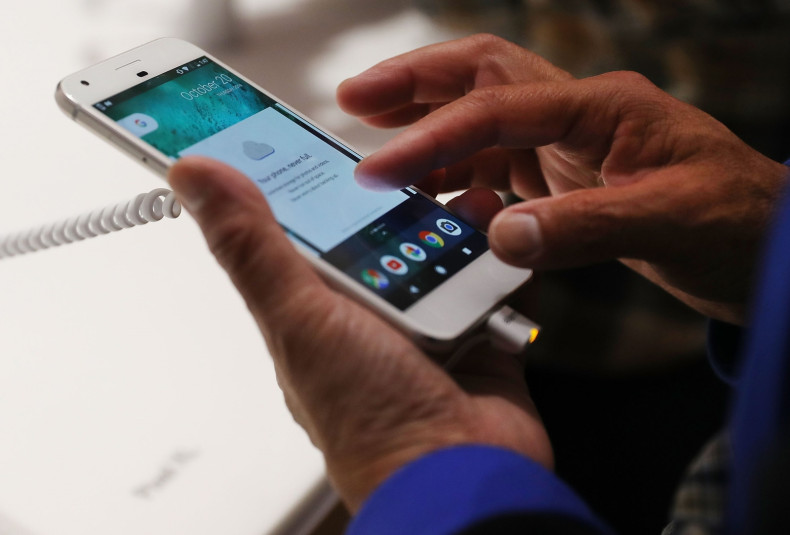 Google's new additions to its Android flagship lineup — 5in Pixel and its larger sibling Pixel Xl with a 5.5in screen — are here. The handsets are now available for purchase from the Google Play Store as well as retail stores in the UK.
Those who have already got one might be curious to experience the latest hardware and software combo Google has packed. To help set up the Pixel phones, IBTimes UK brings its readers a detailed walkthrough explaining the process. These include setting up the new phones, transferring data from old phones to new ones and troubleshooting issues that pop up while moving content.
You don't have to worry if you are setting up a Pixel phone for the first time, as the device will guide you through the steps to set it up. Once that is done, the phone will suggest a few ways for the best use.
Set up Pixel or Pixel XL as new phone
If the Pixel phone is your new phone, then just turn it on and choose to set up as new. If you are moving your data from the current phone, which could be either an Android phone or iPhone, check out the following instructions.
However, before you make a move from the old phone to the new Pixel phone, ensure that the device meets the requirements. Both the phones should have more than 50% charge. Your Pixel phone should have all the latest updates installed. Make sure you have the Quick switch adapter that comes inside the box with the Pixel phone.
How to move data from old Android phone to Pixel or Pixel XL
If you are switching from an older Android phone to the Pixel device, you can copy data such as apps and their data, music, photos and videos, Google account, phone setting and, contacts. You can also transfer text messages.
When you sign in to your Google account on your new Pixel phone email, contacts, calendar events and any other thing related to Google account would be synced.
After you insert the SIM card into your Pixel phone, press the power button until it starts. You can change the language and vision settings by tapping those options at the bottom of the screen. In the end tap Let's go.
There are three ways to move data; copy with cable, via Wi-Fi and Bluetooth or, restore from cloud.
Move data using cable
This is the fastest way to copy data. Use Quick Switch Adapter that comes with your Pixel phone and a cable that works with your current phone.
On your Pixel phone tap Copy your data
Make sure the phone is on a stable internet connection
Power on your current phone and plug a data cable into it
Connect the same cable to the Pixel phone
On the Pixel phone, tap Copy
Sign in to your Google account, if prompted to do so
You will now see a last of data. To move all data, just tap Copy. To transfer some items, switch them off and tap Copy
You should see a message once data is transferred.
Transfer data via Wi-Fi and Bluetooth
Connect both the phones to a stable Wi-Fi network
On the Pixel phone, there is an option at the bottom of the screen saying Other ways to copy, tap on it
Tap backup from an Android phone
On your old Android phone, launch Google app
Say Ok Google, set up my device or enter Set up my device
When you see the Pixel phone's name in it, tap it
Both phones will now receive a Verify code message, confirm it
Confirm your phone's PIN, password or fingerprint, if asked. Also sign in to Google account
How to restore data from the cloud
For this, you will need a Google account with a backup of your data.
Connect your Pixel phone to the internet
At the bottom of the phone screen tap Other ways to copy data option
Tap A backup from cloud
Sign in to Google account with the data backup
You should see a list of devices with backups. Tap the device you want to restore
Also choose the apps you want to transfer
Finally tap Restore.
How to move data from iPhone to Pixel or Pixel XL
If you are switching from an iPhone to the new Pixel or Pixel XL, you can copy data such as texts, iMessages, photos, videos, music, contacts and calendars.
Before you get started with moving data, ensure both phones are charged properly. Turn off iMessage and also backup encryption for iTunes. Power on your Pixel phone, set language then tap Let's go.
On your Pixel phone tap Copy your data
Connect the Pixel phone to a Wi-Fi netwrk
Unlock your iphone
Connect your iPhone to the Pixel using cable or adapter
A message will pop up on your iPhone saying Trust this device, tap Trust
On your Pixel phone, sign in to Google account
You should see a list of data. To copy all data, tap Copy. If you don't want all data, switch them off then tap Copy
When the data is transferred, you should see a message
To continue with the set up, tap Next.
Troubleshoot
While moving data from an old phone to the Pixel you lost connectivity or power, you will need to start the process again.
If nothing happened while moving data, then try using a different cable. Check whether Quick Switch Adapter is inserted properly. Also verify both the phones are charged properly.
If the setup process is complete, but the data did not copy, then you might have to do it manually. Sign in to the apps and accounts on the new Pixel phone.
If you are switching from an old Android phone to the new Pixel, some data do not copy automatically. These are PDF files, photos, video and music stored in a hidden folder, photos and videos received on text messages, non-Google Play Store apps, data from apps that don't use Android backup, some of the device settings, ringtones, contacts and calendars saved elsewhere other than Google. You will need to move these data manually.
Some of the data that do not copy automatically from an iPhone are apps and app data, files stored in iCloud, music having iTunes Digital Rights Management protection, accounts other than Google accounts, contacts and calendars that are not synced to Google or iCloud, and bookmarks from Safari browser.
If you enabled backup encryption for iPhone in iTunes, you might not be able to copy all data, as copying it limited. To turn off backup encryption, do the following steps.
Launch iTunes on your computer
Connect your iPhone to the PC
Go to Summary tab on the iPhone
Uncheck Encryption iPhone Backup
Enter backup encryption password
Wait for the process to complete, then disconnect the iPhone.