Google has delayed its Project Ara modular smartphone until at least 2016, due to producing more iterations of the handset than predicted. Project Ara would let owners replace a smashed screen or increase storage more easily and cheaply than with traditional smartphones.
The project was due to be trialled in Puerto Rico this year, but has now been pushed back to 2016. Between 20 and 30 different modules - such as cameras, batteries and processors - were going to be offered at the trial.
Google said in a series of tweets that it was currently looking for a new location in the US to trial Project Ara, and suggested 2016 would be when the phone finally arrives. "Where are we headed next? We are looking at a few locations in the US...when? 2016. Why? Lots of iterations...more than we thought."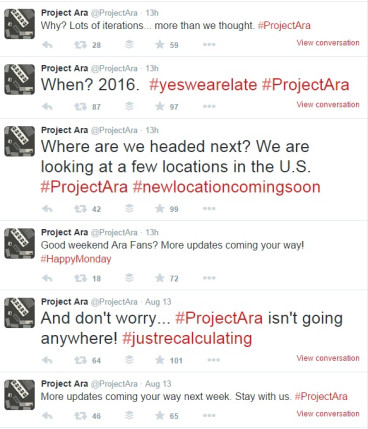 The trial in Puerto Rico was going to see Project Ara phones sold through the island's two largest phone companies and with accessories sold through stores which resembled food trucks. It isn't clear where Google will choose instead, but its Twitter account assured updates would be coming soon.
Google included the hashtag "#yeswearelate" to acknowledge the project is behind schedule. This being Google, however, a project running late then poking fun at itself on social media should come as no surprise.
This is a company which experiments in public and fails in public; after all, it was only earlier this year when Google took Glass back to the drawing board for a rethink. Countless software products have also fallen by the wayside as Google washes its dirty laundry in public.
At least Project Ara has reached the stage of being a working prototype. On 29 May the phone was used to take its first public photograph, uploaded to Twitter. The phone was booted up, then the camera module was attached and a photo was taken, demonstrating how simply parts of the phone can be added or removed in place of alternatives.