The uncle of the seven year-old boy photographed holding the severed head of a Syrian soldier has told the world's media they are overreacting and to "forget about it".
"He's gone, forget about it. I'm sure you've seen much worse than that", Mustafa Sharrouf told Australian news company Fairfax Media.
The graphic image was posted on Twitter yesterday by the boy's father Khaled Sharrouf: a notorious Australian extremist and jihadi fighter who left his hometown of Sydney for Syria last year, along with his family, using his brother's passport.
Sharrouf, whose Twitter account has since been suspended, posted the photograph alongside the caption: "that's my boy".
It is believed the photo, which shocked the world on Monday, was taken in the Syrian city of Raqqa.
The boy's grandfather, Peter Nettleton (father of Sharrouf's Anglo-Australian wife Tara) has said today that he is "devastated" by the image and called for the Australian government to "pull the kids away from that man".
"I was gutted, totally gutted", Nettleton told News Corp. "I don't know what to think. I just feel sorry for Tara."
Politicians and Muslim community leaders in Australia have uniformly condemned the photograph.
Australian Prime Minister Tony Abbott said the photo is "more evidence of just how barbaric this entity [the Islamic State, formerly known as Isis] is".
Khaled Sharrouf, 33, was associated with Australia's largest terrorist plot, which took place in 2005 and involved 18 men across two Australian states.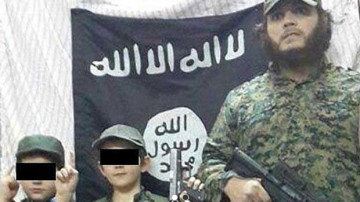 A16-month long investigation into the plot, codenamed Operation Pendennis, involved Australia's Victoria Police, the Australian Security Intelligence Organisation (ASIO) and the Australian Federal Police. When it was complete, investors found 28,000 rounds of ammunition alongside guns, bomb-making recipes, times, jihadist material and videos depicting beheadings.
Sharrouf was sentenced to a five-year prison term for his role in the plot, but served just under four years, due to being diagnosed with chronic schizophrenia.
He escaped travel restrictions by using his brother's passport to travel to Syria in December last year, where he joined Islamist fighters.
His three young sons are believed to have joined him. Sharrouf has previously posted pictures of himself and young boys, believed to be his children, wearing military fatigues and brandishing automatic weapons on social media sites.