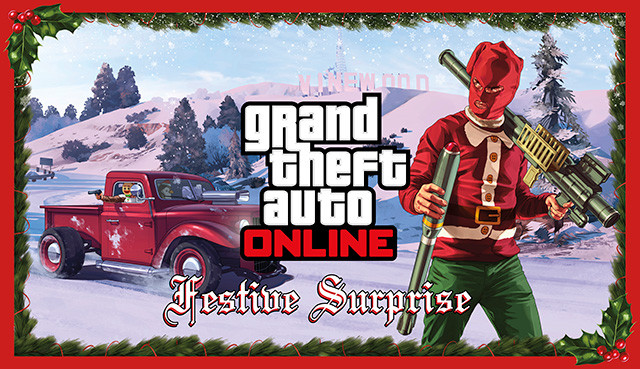 Rockstar Games has yet again lived up to its promise with the release of new Christmas DLC update for GTA 5, which is titled as 'Festive Surprise'.
Apt to its title, the new title update for GTA 5 brings loads of goodies including explosive stocking stuffers such as Homing Missile Launcher and Proximity Mines that can be purchased via Ammu-Nation and stocked up permanently in your inventory.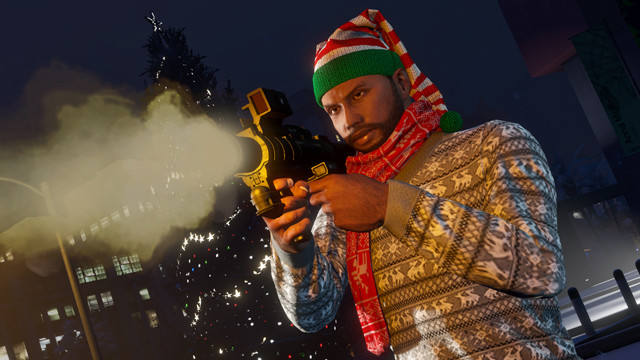 The 1.19 title update or Christmas DLC for GTA 5 also brings loads of new features and enhanced content to GTA 5 including bug-fixes as listed on the Rockstar Games support website.
Some of the noteworthy additions made to the 1.19 title update for GTA 5 are listed below:
New Features / Updates
Players are now able to own a third property, allowing potential ownership of up to 30 cars and 9 bicycles.
Deadzone and Acceleration sliders have been added to control settings.
First Person Mode Auto Level Camera on/off setting has been added to settings.
New Content
Three new settings added:

First Person Aim / Look Deadzone – This reduces right stick deadzone. A lower deadzone allows for the game to register player input sooner and in turn make aiming more responsive for players that require greater precision; the higher the setting, the faster the player is able to look around.
First Person Aim / Look Acceleration – This controls how quickly speed is increased until the player reaches maximum turn speed; the lower the setting, the longer it takes for the player's turn speed to reach maximum.
First Person Auto Level Camera on/off setting – This gives the player complete control over where they're looking at all times. With the option on, if a player is looking down and moving forward then the camera will pan up so that the player can see in front of them. With the option off, then the player would remain looking at the ground when moving forward.
Four new vehicles have been added to Southern San Andreas Super Autos:
Bravado Rat-Truck
Vapid Slamvan
Dinka Jester (Racecar Livery)
Dewbauchee Massacro (Racecar Livery)
To obtain these vehicles in Story Mode:
PS3 / Xbox 360: These vehicles can be obtained from the Special Vehicle List when in a player-owned garage.
PS4 / Xbox One: These vehicles can be purchased online from San Andreas Super Autos.
Two new weapons have been added to Ammu-Nation in GTA Online (Not supported in the Shooting Range):
Homing Launcher ('Fire and Forget')
Proximity Mine
To obtain these weapons in Story Mode:
PS3 / Xbox 360: Weapons are deposited direct to the character's weapon wheel with a full clip of ammo.
PS4 / Xbox One: Weapons will unlock and be available for purchase from Ammu-Nation after passing certain missions in Story Mode.
30 new tattoos have been added to all Tattoo Parlours in GTA Online.
Five new Kit items have been added in GTA Online:
Black Combat Chute Bag
Charcoal Combat Chute Bag
Forest Combat Chute Bag
Gray Combat Chute Bag
Tan Combat Chute Bag
Decorate your Garage with Four New Christmas DLC Vehicles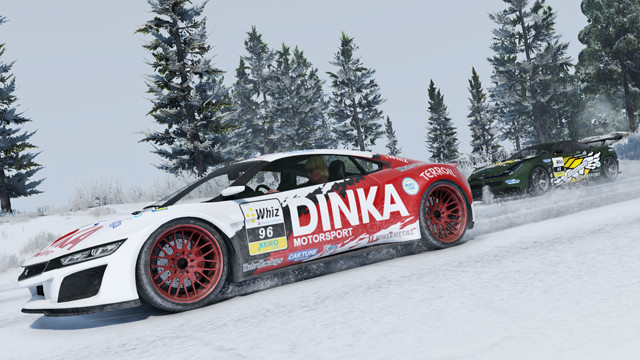 Rockstar has presented four new ravishing rides to decorate your garage this holiday season.
Not to mention the Christmas DLC unlocks the ability to purchase a third property and garage, which is a great incentive to encourage you into buying four-new vehicles including the Hot Rod Christmas Ratloader, the sturdy Slam Van and the fast and flashy Massacro and Jester sports cars with all new Race liveries.
Free Seasonal Christmas Gear and Masks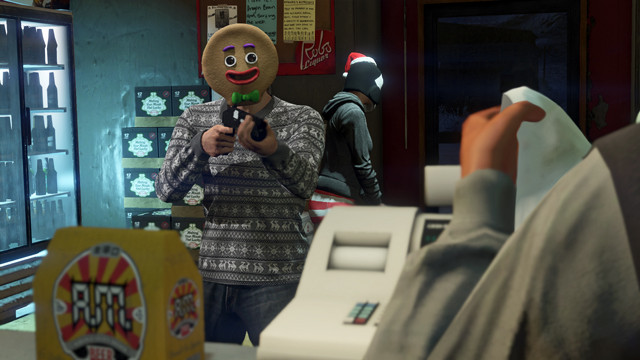 Grab a new set of trendy clothes from your inventory that includes holiday pajamas, Christmas sweaters, new scarves, hats, masks and more for free.
You must note that these items need to be worn before 5 January, as they are limited period inventory stock and will not be accessible once the festival season has ended.
Snowball Fights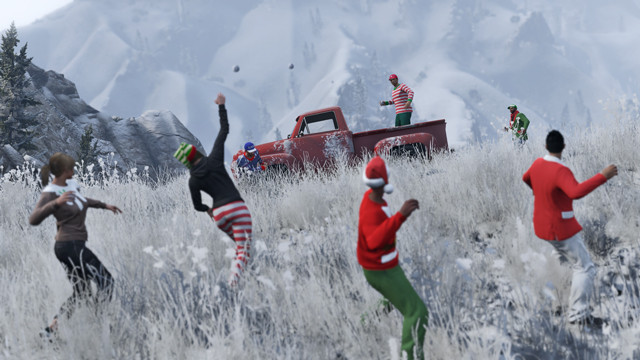 Engage in friendly snowball fights with your friends this holiday season, as the forecast in Los Santos will resemble a rare phenomenon of San Andreas' snowfall that will encourage you and your crew members for some fun and frolic with a pack of snowballs.
Christmas Day Gifts
Grab some surprise gifts from your inventory as you spend your leisurely hours at one your apartments in Los Santos, sitting beside your Christmas tree and wishing for some rare gifts with lots of luck.
Holiday Special Crate Drops
Look out for some rare crate drops filled with goodies falling from the sky, as part of the holiday special event through the entire week of Christmas and until 5 January when the festive season comes to a close.
Don't miss the rare vintage GTA tees and other exciting wardrobe stuff that you may have missed in earlier Social Club Event weekends, which will be reintroduced for the holiday special event.
Celebrate the New Year with Stunning Fireworks
Celebrate the New Year with a bang, as the Firework Launcher and Firework rocket ammo will be up for grabs again starting from Christmas Eve until Monday, 5 January.
What's more? You get to win one for free on four special days: Christmas Eve, Christmas Day, New Year's Eve or New Year's Day.
#Festive Surprise Snapmatic Contest
Exhibit your photography skills to capture your glorious and merriest moments with your Crew family or take a stunning photo of #Festive Surprise action with your friends and submit them for some great in-game rewards.
Check out the official rules and more details here. All entries posted on or before 5 January with #FestiveSurprise hashtag will be eligible for the contest.
Holiday Party Livestream on Twitch
Enjoy all the action pertaining to official GTA Online Holiday party Livestream events at twitch.tv/rockstargames with special guests invited from the gaming community.
The live-streaming event begins at 4pm ET from 19 December and will be officially available on both PS4 (4 to 5pm) and Xbox One (5 to 6pm) time slots of the broadcast.
In related news, renowned YouTuber Domislive (aka Dom) has shared some exciting moments with new DLC cars and weapons gameplay for GTA 5 Christmas DLC in his latest video.
Interested gamers may check out the gameplay video below:
[Source: Rockstar Newswire]