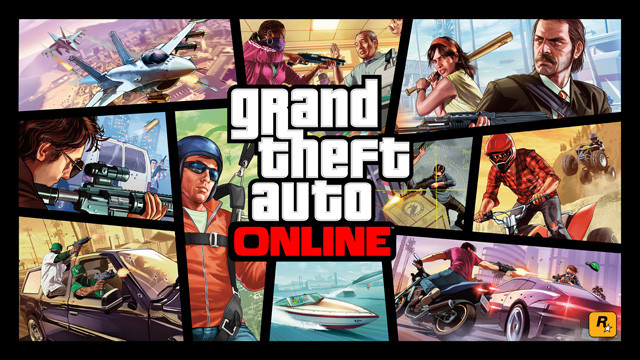 There is more good news for GTA 5 fans as a discerning tipster, DomisLive, has revealed fresh details of the leaked Hipster update in a YouTube video.
Rockstar Games recently confirmed the arrival of GTA 5 for PC, Xbox One and PS4 through an official gameplay trailer shown at the E3 expo and now there is a leaked DLC video making waves on the internet.
According to the tipster, the leaked information about the new Hipster Pack DLC first surfaced via a Russian article, which was translated to English to decipher the leak.
The article suggests that a picture of the leaked Hipster Pack DLC was initially spotted on Xbox.com website. Within a few hours after the leak, Microsoft reportedly took out the leaked picture from the Xbox.com website as it was not supposed to be an official announcement.
In addition, the leaked image carried the message: "Download the Hipster Pack now" which hints that the DLC is ready for release and it could be just a matter of time before the official confirmation is out from Microsoft.
Nevertheless, the tipster suggests that the DLC is likely to be out in less than a week's time or at the latest by next week.
Leaked Hipster Pack DLC: 7 New Cars, Guns, Clothing and More
In his second video pertaining to the leaked Hipster Pack DLC, Dom has revealed its contents including 7 new cars, weapons, tattoos, masks clothing and more.
The tipster points to a leaked transcript that sheds more light on the contents of the Hipster Pack DLC (see screenshot below):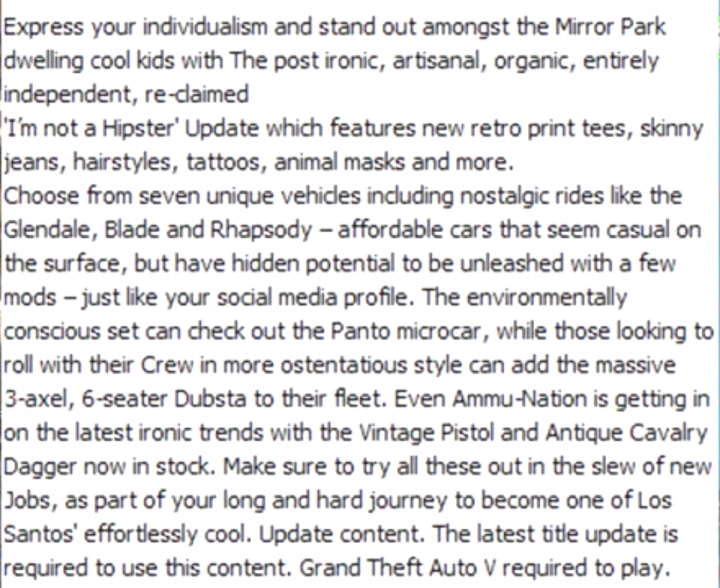 The transcript clearly confirms a handful of clothing and accessories such as skinny jeans, hairstyles, tattoos, animal masks and more. Besides, you can choose among a bunch of classic cars such as Glendale, Blade and Rhapsody.
Though these cars look timid and casual, they can be reportedly modded with visual customisations like decals, paints and more.
The environmentally conscious players can buy the Panto Macro car, while those looking for some luxurious crew car can add the massive 3-axle, 6-seater Dubsta car to their fleet.
On the weapons front, a vintage pistol and antique cavalry dagger make their debut for GTA 5 with the Hipster Pack DLC, which is consistent with earlier leaks showing the weapons inventory.
GTA 5 fans can also relish more job opportunities to make quick cash and rank up fast with the Hipster Pack DLC.
See Also: GTA 5 PC and Next-Gen: New Wildlife, Properties and Features Revealed