The Attack Helicopter DLC for GTA 5 Online has for long been in the spotlight as YouTubers had earlier speculated about its release to be part of the spring updates.
Now fresh rumours of Attack Helicopter DLC for GTA Online are making waves on the internet, as the Heists DLC for GTA 5 seems just around the corner with tipsters speculating that Heists will release soon after the E3.
A discerning GTA 5 tipster, DomisLive, has shed some light on the possibility of Attack Helicopter DLC accompanying the release of Heists DLC which is based on the hints thrown in by GTA wiki (wikia) and a movie trailer teasing some gameplay elements of GTA 5.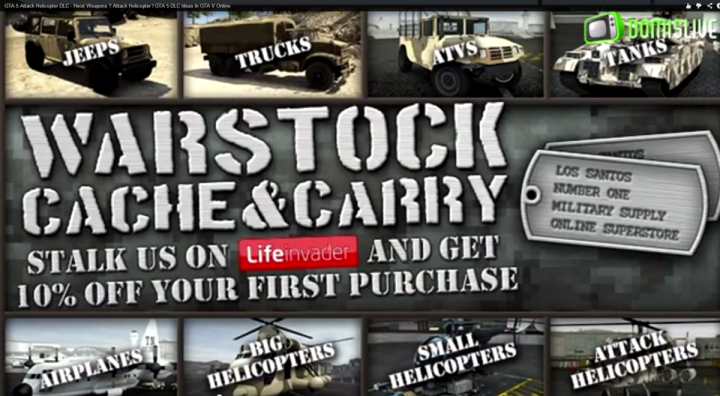 First up among the key hints is an advertisement on the Lifeinvader movie trailer which also carries pictures comprising the art gallery of various military vehicles making their way to GTA Online.
The biggest hint in the advert shows a military tag that reads: "Los Santos Number One Military Supply Online Superstore".
As part of the promotional message, the ad also says: "Stalk us on Lifeinvader and get 10% off your first purchase".
Below the promotional message, you can see the pictures of airplanes and helicopters including big helicopters (Cargobob), small helicopters (Buzzer) and finally the attack helicopters in that order from left to right.
Since the Cargobob and Buzzer already exists in GTA Online and we have not yet seen the attack helicopter in the game, it compels us to believe that the attack helicopter could actually be introduced as part of the Heists DLC or a standalone DLC for the game.
The ultimate hint thrown by Rockstar actually pops up in the Lifeinvader video that comprises all the vehicles that have been used in GTA 5 with the new addition of an attack helicopter as part of the gameplay.
Here are a couple of big unanswered questions:
Why would Rockstar post an advert about some new vehicles if they are not part of the game or why would it hide the attack helicopter from being used if it already existed in the game code?
Do you think Rockstar will release the Attack Helicopter DLC? Please leave your comments below.