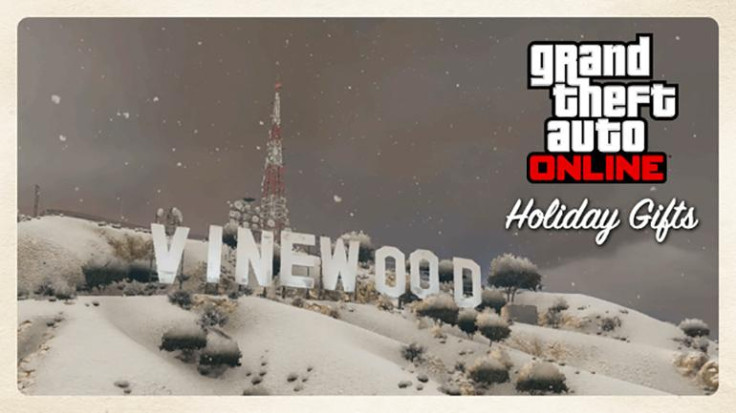 The internet is abuzz with news of GTA 5 Heists DLC release for 23 December, as renowned GTA 5 tipster, NillxModz, has recently tweeted that the highly-anticipated DLC will be available on Sony's PlayStation consoles (PS3 and PS4) starting 5am EST on 23 December, while its Xbox versions (Xbox 360 and Xbox One) would be available from 10:30am EST on the same day.
• 23rd December 2014 (PS3 and PS4) @ 05:00AM. • 23rd December 2014 (Xbox 360 and Xbox One) @ 10:30AM.

— NillxModz (@NillxModz) December 11, 2014
You can expect to see the Heist DLC and Holiday DLC (1.05/1.19) for all consoles on Tuesday 23rd December 2014. Look forward to it! — NillxModz (@NillxModz) December 11, 2014
According to Latin Times, there is no clear reason why the PlayStation version of GTA 5 would be released ahead of its Xbox counterpart, although earlier speculation strongly suggested that both Heists and Holiday DLC are due for release in the same week of Christmas Day or on Tuesday, 23 December.
Furthermore, DomisLive's latest video (now unavailable due to unexpected channel termination on YouTube) suggests that the time gap could be due to the way Sony and Microsoft servers schedule the DLC updates.
My Youtube account has been terminated, I'll contact my network and find out what happened.

— DomisLive (@Domislive) December 12, 2014
Now the big news for the GTA 5 community comes in the form of two shocking account bans, wherein DomisLive's popular GTA 5 channel has been suspended indefinitely citing repeated or severe violations of YouTube's terms of service while renowned tipster NillxModz's PSN account has been banned from GTA Online by Rockstar for some reason. Here is a flurry of tweets from NillxModz regarding the latest developments and status with serious account bans against DomisLive and his own PSN account:
Some YouTubers such as @Domislive have been terminated as part of the action taken via Take Two Interactive, including me. #Protest — NillxModz (@NillxModz) December 12, 2014
Rockstar Games are taking severe action against me for releasing the recent information. More information to follow.

— NillxModz (@NillxModz) December 12, 2014
Here's PSN's action against the recent spoilers for the Heist and Holiday DLC. Permanent account ban. #Bypass #Sony pic.twitter.com/eqkxVUkTJj — NillxModz (@NillxModz) December 12, 2014
It has been ascertained that both these account bans are somehow linked to the latest leak about Holiday DLC that featured in a YouTube video, a little while earlier (before the ban) as Rockstar is apparently miffed with the Holiday DLC leak information spreading like wildfire on the internet.
There is still some hope to see a stream of leaks ahead of Heists release for GTA Online:
My private dealings with Take Two Interactive will not affect my steam of leaks! Heist info coming soon. #NillxModz

— NillxModz (@NillxModz) December 12, 2014
We've found most of our information relating to the Heist DLC. If we are ready tomorrow, it will be published on our forum. — NillxModz (@NillxModz) December 13, 2014
Nevertheless, let us take a sneak peek at the actual Holiday leak pertaining to new selection of items with Christmas-themed outfits for Holiday DLC that has apparently triggered the consequences.
Here is the actual screenshot pertaining to the leaked Holiday Season DLC info that details the list of features expected with the forthcoming update for GTA Online: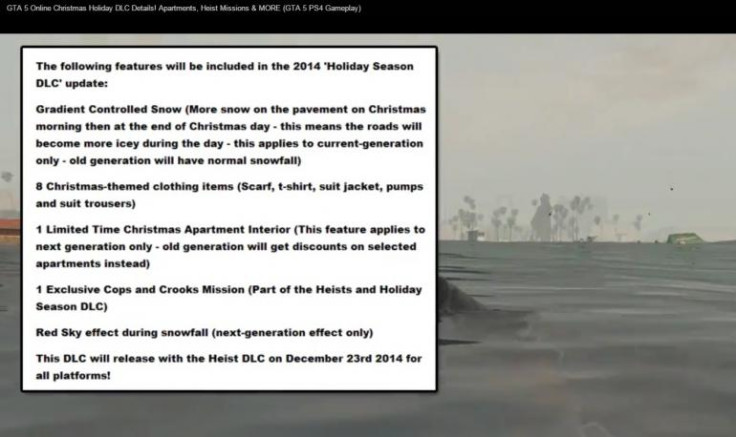 Among the notable features, Gradient Controlled Snowfall will play a key role in depicting a more realistic representation of weather patterns on the next-gen gaming consoles (PS4 and Xbox One), besides featuring a Red Sky effect during snowfall.
In addition, GTA 5 next-gen gamers can enjoy a total of 8 Christmas-themed clothing items including scarves, t-shirts, pumps and suit trousers, while the apartment interiors getting a major facelift.