GTA forums are abuzz with speculation of Hipster DLC 2.0 making its way into GTA Online, even as renowned YouTuber MrBossFTW sheds more light on the forthcoming DLC update for GTA 5.
Based on leaked information from prolific GTA 5 tipster Funmw2 and several other reputed members of GTA forums, it is ascertained that Rockstar has a definitive DLC pattern for the game based on update release timeline in the last one year.
Take a look at the complete GTA 5 DLC release timeline that has been classified into Old-gen release and Next-gen release, as outlined in the screenshot below: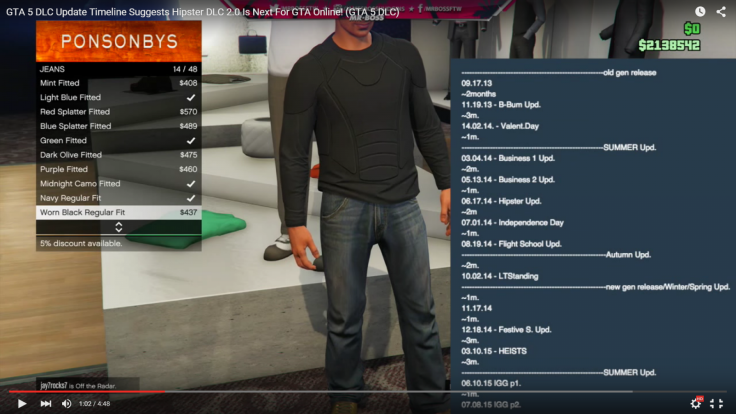 As the YouTuber points out, except for the Christmas DLC we have seen all other DLC releases coming out in perfect sequence, starting with Business Update 1, followed by Business Update 2 and Hipster Update, and then Independence Day DLC and Flight School Update, as part of the 2014 Summer Update roadmap.
Furthermore, we received the Festive Surprise Update as a substitute for Christmas DLC and Heists Update instead of Valentine's Day DLC, besides the Ill-Gotten Gains DLC (Part 1 and Part 2) aptly replacing the Business Updates (1 and 2) from the previous year.
Going by this theory of matching up the DLC themes with each other, Rockstar has been pretty consistent in its release pattern with big title updates for GTA 5.
For instance, the Business Updates (1 and 2) as well as the High-Life Update have been portraying themes similar to Ill-Gotten Gains DLC (part 1 and part2), given the luxury items, clothing and expensive vehicles that were introduced with all these DLCs.
With the leaked DLC game code (hex values) clearly pointing to the term "Low", the GTA community is widely speculating the imminent release of Lowlife update or Lowrider DLC as it mimics the thematic style of Hipster Update for GTA Online.
To further strengthen this claim, Funmw2 clarifies that the Ill-Gotten Gains update has been split into two parts, wherein the first part comprises of High-Life Update and the second part represents the Business Update 2.0.
Consequently, it is ascertained that the highly-speculated Lowlife update could indeed be released in two instalments as a combination of Flight School Update and Hipster Update for GTA Online.
The recent Rockstar announcement pertaining to Stunt Racing and Stunt Creator Part 1 adds more fuel to the Lowlife DLC rumours, as it is almost confirmed that the Stunt Races will be an extension of Flight School Update.
Going by Rockstar's traditional timeline and templates used for GTA 5 DLC releases, a Lowlife update (with cheaper items) is definitely on the cards as it aptly complements the Highlife update and Ill-Gotten Gains DLC (with expensive items) for GTA Online.