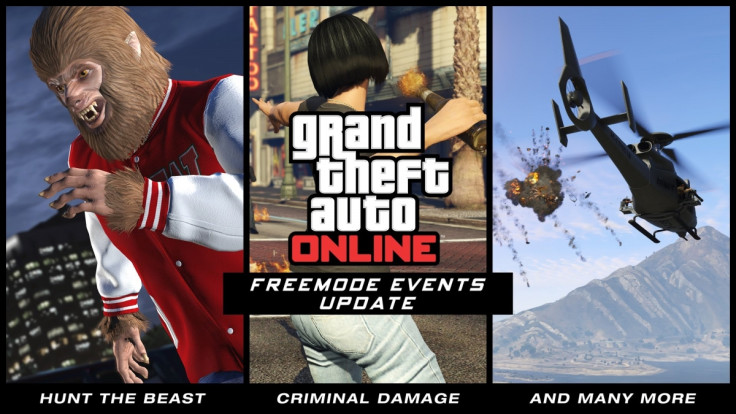 Rockstar Games has recently announced the Freemode Events update for GTA Online to enhance the gameplay experience with a wide range of seamlessly integrated jobs and new challenges that are tailor-made for current gen consoles and PC. As the game maker emphasises in its recent post on Newswire, the Freemode session can be initiated directly without the use of menus, lobbies or extended load times.
It is clear that Rockstar will be basically offering just a handful of Freemode challenges without any option for purchaseable items such as cars, weapons or clothing in GTA Online. However, you could still enjoy the Freemode session with your friends, crewmates, rivals and other random players in any of the four new challenging missions:
King of the Castle - wage a war to capture the designated castle as your territory
Hunt the Beast - work with your crew and alliance members to capture the mighty beast
Hunting Pack - deliver priority vehicle rigged with explosives that detonate as speed falls below the threshold
Cross the Line - heavily-armed squads face off to claim victory across a neutral zone
As renowned YouTuber MrBossFTW (aka Ross) explains in his latest gameplay video for GTA Online, any discerning gamer can notice the lack of cars, weapons or any new purchasable content in the recent gameplay trailer released by Rockstar for the upcoming Freemode DLC. Besides, the screenshots of the Freemode DLC featured on websites like Kotaku and IGN do not reveal any purchasable items for GTA Online.
To further strengthen this claim, Ross clarifies that Rockstar has indeed confirmed on its social club that the Freemode Events update will not feature any of the purchasable items. However, the game maker is "definitely working on more vehicles among other things to collect for future updates".
Rockstar has also responded to recent fan queries about Freemode DLC on Twitter: "We'll definitely have more cars, clothes, and other items in future GTA Online updates."
Consequently, it is ascertained that the Freemode DLC will be just one off update and will not be part of the regular lifecycle update for GTA Online. This is to prevent avid GTA gamers from getting distracted with new toys and items, instead of focusing on new game content being introduced in the game.
Furthermore, Ross explains that the Freemode challenges will not cost you a single dollar to participate, as Rockstar has not announced any purchasable game content or participation fees (in-game currency) for this update.
Do let us know in the comments section below, if you think the Freemode DLC could be quite dull and boring with the lack of guns, clothes and fast cars or do you think it is a great idea to save your hard-earned money for future DLCs?