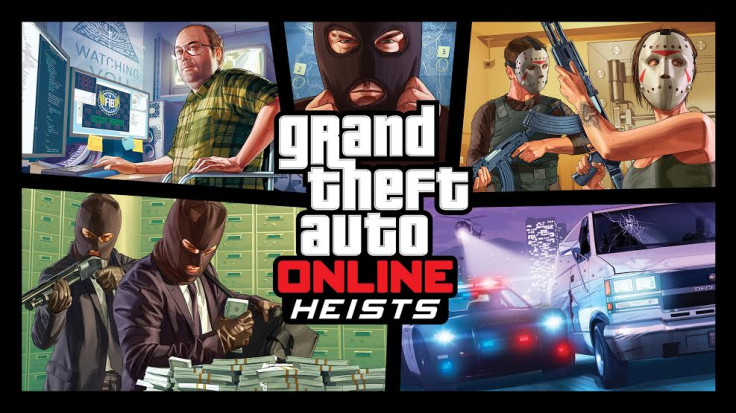 Avid GTA 5 gamers are in for some great news, as renowned YouTuber DomisLive (aka Dom) has revealed some interesting titbits about the Heist DLC pertaining to leaked info about weapons, vehicles, animals and more.
The Heist DLC info has been sourced from a reputed GTA 5 tipster, Shady Lapse at Se7ensins forums, via leaked 1.20 source code for the game.
Here are the excerpts from the leaked game source code for the upcoming Heist DLC for GTA Online:
"MPHEIST/HEIST_EMP_BOMB" New Bomb
"MP_HEISTS_BIOLAB_FINALE_SOUNDS" New Audio
"MP_HEIST_TUNING_DLC_CONTENT."
"MP_HEIST_LESTER_TARGET_VCLS_FEATURE." might be feature to find armed cars?
"MP_HEIST_CLOTHING_DLC_CONTENT_OUTFITS_SLOT1_SLOT2," New clothing
"MP_HEIST_BONUS_DLC_CONTENT_BZGAS_XM25Grenade_Launcher,"New weapon!
"MP_HEIST_DLC_CONTENT_VEHICLES." The Armored Vehicles?
"MPHEIST_WEAPON_ATT_THERMAL." Thermal Bomb?
"MPHEIST_MASK." New Masks!!
"MPHEIST_JEFF." [0xBBCB4AAC ] new contact!
"MP_Buy_PEGASUS_UNLOCK_TMJ_1.500.000$" Hydra is available to buy after The military heist?
"PILOT_SCHOOL_VEHICLE_HYDRA" This was added in the 1.19 update! "CONTENT_PACK_HEIST_ANIMALS" horses?
According to the leaked source code (above), it is clear that we will be seeing a bevy of exciting weapons such as the new Electro-Magnetic-Pulse (EMP) bombs, BZ Gas XM25 Grenade Launcher and Thermal bomb.
The EMP bombs will surely come in handy against electronic equipments such as robots, security cameras and armed sentinels.
Besides, there is a mention of BioLab Finale sounds, which hint at security door alarms or something specific to The Humane Labs Raid mission in new audio files.
The next few lines in the leaked game source code suggest that we could be getting the long rumoured armoured cars and armoured vehicles for the multi-player mode such as the APC tank with the Heist DLC release in January 2015.
In line with earlier leaks and official Heist DLC trailer, Heist DLC is likely to introduce a couple of new slots for combat clothing, masks, and the highly-anticipated Hydra jet plane (unlockable via Pegasus for $1.5m), as cited in the leaked source code (above) for GTA Online 1.20 update.
There is also a mention of Lester in the game source code, which hints at some special assistance from Lester during Heist missions like taking out a target or offering back up force for a clean getaway.
Among other noteworthy additions to Heist DLC, you may expect a new contact named Jeff, who could be offering some lucrative missions for making quick money in GTA Online.
The last line in the leaked source code suggests there would be some new animals coming to Heists. Speculation is rife that we could see some Guard Dogs, Sniffers or some hunting dogs that could aid the cops in their missions.