GTA 5 Online Heists DLC: Official gameplay images breakdown reveals fresh info on cars, guns and clothes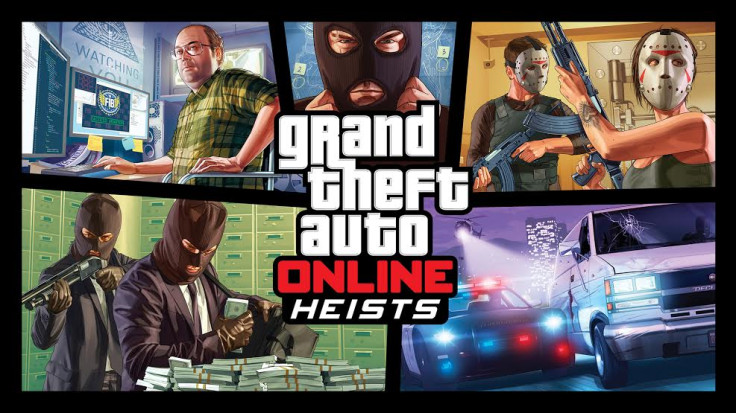 Rockstar Games recently announced the proposed release dates for the highly-anticipated Heists DLC and the impending launch of GTA 5 for PC via the Newswire, which also discloses the official gameplay images and fresh info on probable cars, guns and clothes in GTA Online.
Renowned YouTuber DomisLive (aka Dom) shares some interesting information in his latest breakdown (video) for the official gameplay images released by Rockstar on Newswire.
As Dom points out in his latest gameplay video for GTA Online, each official screenshot from Rockstar clearly reveals some interesting titbits about the likely clothes, cars and weapons that we will be seeing with the release of Heists DLC on 10 March.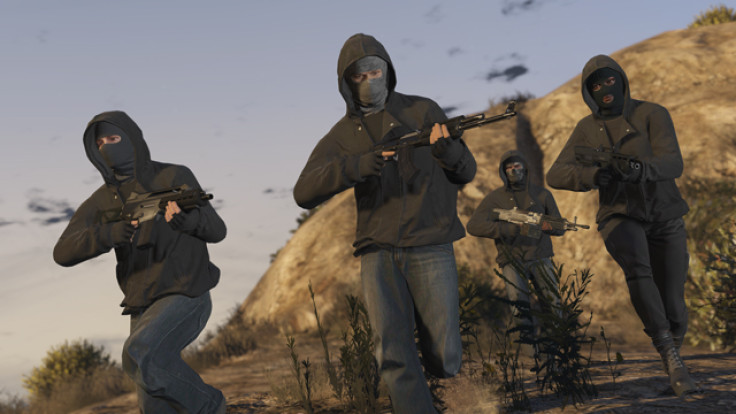 In the first screenshot, you can notice four gangsters wearing hoodies and masks, while their weapon load-out varies from sub-machine guns with high-firing rate to high-calibre assault rifles.
Another noteworthy point is that the man standing at the back seems to be wearing a mask with a special Ghost imprint on it, which symbolises the killer instinct of the person wearing the mask.
Unlike the regular hoodies that we find in GTA 5, these are specially made for crew outfits so that we know the team's identity, just by looking at their dress code.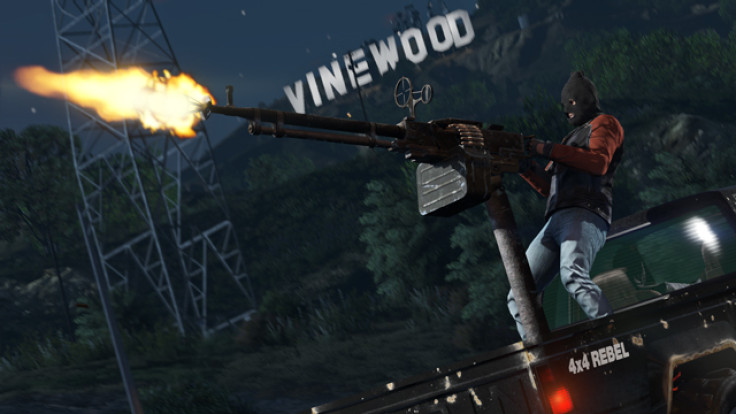 In the next image, you can see a Karin Rebel with a man firing the mounted machine gun and dressed up in a gangster outfit with the tailor-made mask for the Heist missions.
In the third screenshot, you will notice a gangster wearing a batman ski-mask and snooping around someone, while hiding behind a trailer.
It is not yet clear if this image belongs to some Heist mission. However, the costume looks terrific with custom-made gloves that go well with your suit, when you are fully dressed up for covert operations in GTA 5.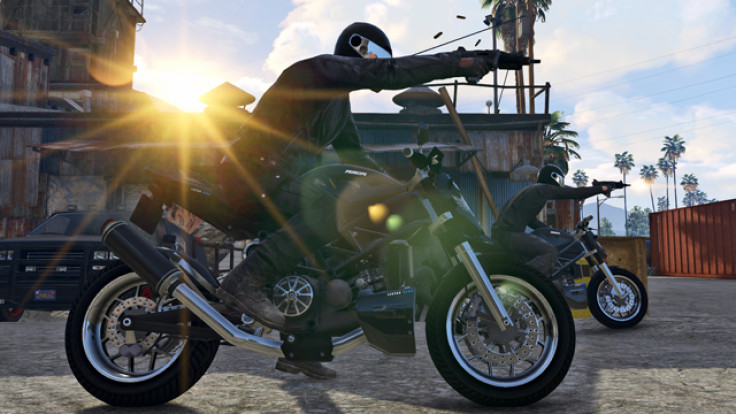 As seen in earlier leaked images for Heists DLC, the brand new crew motorcycles are here for sure as depicted in the official screenshot (see above) released by the game maker.
Furthermore, the crew suit comprising jacket, trousers and a classy helmet will surely make Heists the most sought after DLC in GTA Online.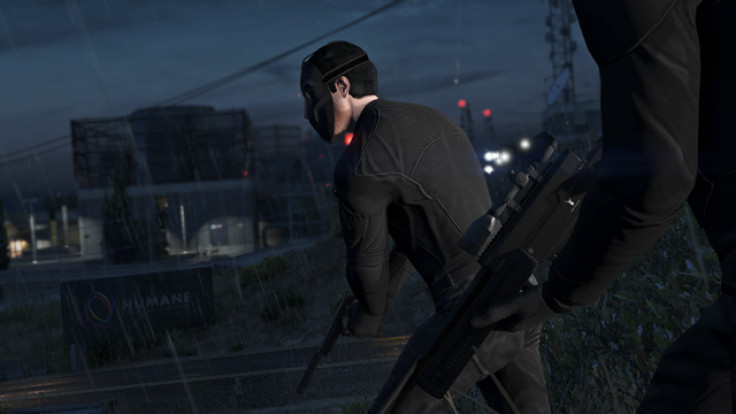 Next up in the screenshot, we see a couple of brand new weapons including the high-calibre Sniper rifle and a pistol with silencer installed.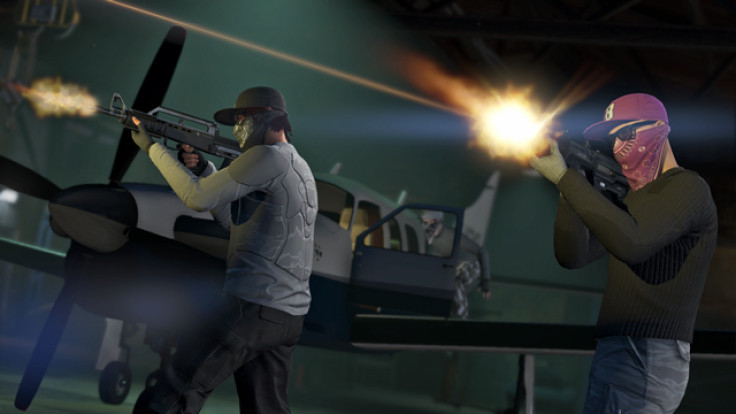 In the next image, you can see two gangsters wearing bandanas of different colours to suit their taste, which is another welcome addition to Heists DLC in GTA 5.
The next screenshot depicts a brand new combat helicopter with a powerful mounted mini-gun on board, while there is another attack helicopter flying high in the background and firing at some targets in GTA 5.
With armoured body on their sides and windshield, these helicopters are nothing short of military-class vehicles and ready to give you both offensive as well as backup fire-power in any war scenario in GTA Online.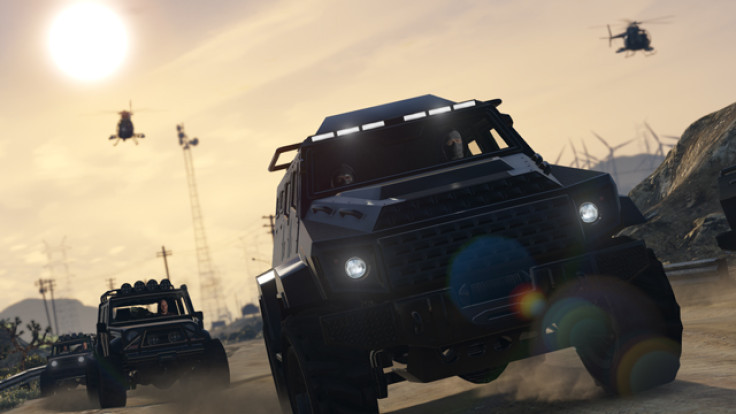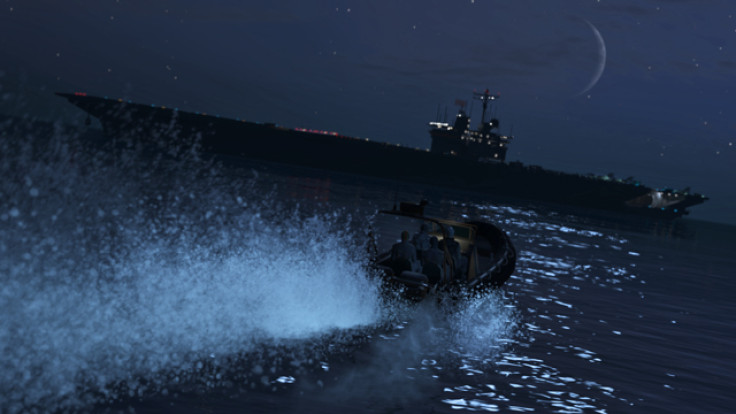 Finally, we can see armoured APCs, patrol boats and a carrier ship, as well as some crew members robbing a bank with the typical Heists Crew dress code and armed with suppressed or silenced machine-guns for the covert job.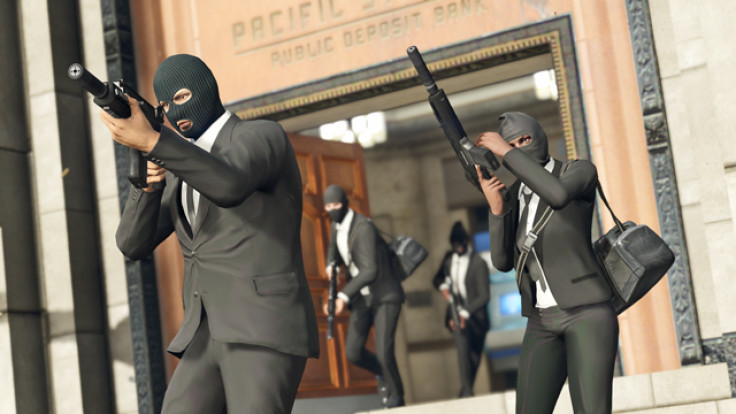 © Copyright IBTimes 2023. All rights reserved.