Rockstar Games has recently announced massive discounts on apartments and vehicle purchases along with double GTA$ and RP bonuses for all Adversary modes in GTA Online as part of Thanksgiving weekend specials. The game maker has added a new Adversary mode called "Running Back" which features three variants of gameplay across gaming platforms including Xbox One, PS4 and PC.
New Adversary Mode: Running Back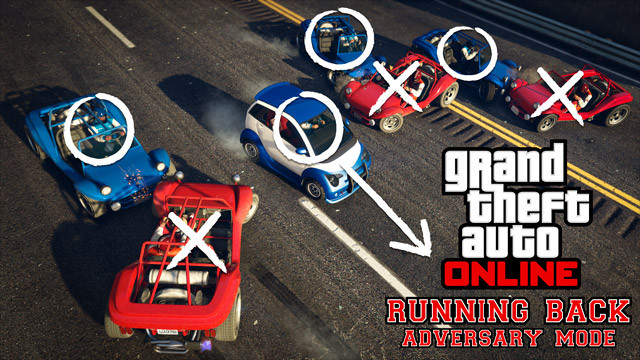 The new Adversary mode supports two teams with a total of four to eight players who face off each other in a racing battle across a roadway. One Runner who drives a Benefactor Panto from the offensive team is required to cross the finishing line at the far end of the highway, using help from his offensive teammates in BF Biftas.
The opposing team, however, will try to block the runner and crash him out of the way. This battle for supremacy kicks off at three different locations on the map: Raton Canyon Bridge, La Mesa Bridge and Zancudo Tunnel.
Big Black Friday discounts: 40% off on apartments, 25% off on all vehicles
In addition, Rockstar has introduced epic Black Friday discounts on purchase of all apartments and vehicles in GTA Online from 26 to 29 November. As part of the Black Friday sales Dynasty 8 website is offering a mind-blowing 40% off on all apartments in GTA Online, while the sleekest and exotic cars are up for grabs with a massive 25% discount from the Southern San Andreas Autos.
Lowrider fanatics are in for a golden opportunity to complete their collection of Lowrider cars this Black Friday, while the real estate tycoons in GTA Online may grab their fourth apartment at a massive discount.
Note: The Black Friday discounts are applicable across all gaming platforms including PC, Xbox One, PS4, PS3 and Xbox 360.
Double GTA$ and double RP weekend bonuses
GTA Online gamers can also participate in a bunch of Adversary modes including the new Running Back mode to earn double GTA$ and double RP bonuses for the entire weekend on the occasion of Thanksgiving. You may choose to participate in one of the OG favourite modes such as Come Out To Play, Siege Mentality, Hunting Pack, Slasher and Running Back for the entire weekend.