A large cache of weapons and ammunition found hidden aboard a cargo ship heading to an Islamist-controlled port in Libya was manufactured in Turkey, investigating officials said, possibly to be bartered for oil with the civil war-torn country.
The Greek coastguard seized the Bolivian-flagged vessel Haddad 1 off the island of Crete earlier in September. A search of its cargo revealed almost 500,000 rounds of ammunition and 5,000 rifles as well as more than 4,900 cartons of cigarettes.
A high-ranking coastguard official with direct knowledge of the investigation confirmed to IBTimes UK that the vessel was headed for Libya's western port city of Misrata, currently controlled by an Islamist coalition known as Libya Dawn, at a time when the whole country is under a United Nations arms embargo.
Greek authorities have not yet ascertained where the illicit cargo was loaded, although initial evidence suggests it was Iskenderun, in southern Turkey, about 50km from the Syrian border, the last port visited by the Haddad 1 before it was intercepted.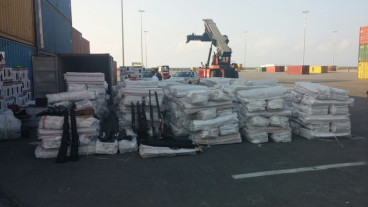 Documents for the cargo stated that the rusty 65m ship carried only household items, the official who spoke on condition of anonymity, said. Pieces of furniture, including drawers and cupboards were on board, but as camouflage for the illicit load.
"When we opened the containers there was a first layer of household items as a cover, which, if removed [revealed] the weapons and ammunition," the official said.
Sudan or Libya?
Both the rifles, of a type similar to those used by police, and the ammunition were manufactured in Turkey, by Torun Arms and Yavex, respectively. The 9mm bullets, however, are not compatible with the rifles they were being smuggled with.
As news of the ship's seizure was first reported, the Turkish foreign ministry claimed the shipment was fully documented and destined for the Sudanese police force. Speaking to Reuters, spokesman Tanju Bilgic also pledged to cooperate with Greek authorities if evidence to the contrary was found.
Yavex also said its ammunition had not been shipped to Libya but the "law enforcement of a different country".
"All international transportation and transfers of our company are well documented and recorded. All business activities are fully legal according to national and international rules and laws.
No one in our company can have any business relationship with any illegal or suspected organisation," the company said. "All transfers and documents about this shipment are legal and under permit and license of [the] Turkish government. We believe the current case will be solved clearly."
But the Greek official said there was nothing to support Bilgic's claim. "Regardless of what is stated by the Turkish MFA, we haven't found any such document on-board the vessel or established any link with any Sudanese entity, public or private, neither have we found documents connecting the cargo with Sudanese territories," the official said.
Torun Arms did not reply to a request for comment. The Turkish MFA also did not reply to a request for comment.
VOI: Vessel of interest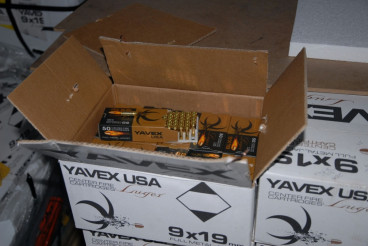 The Haddad 1 crew, made up of four Syrians, two Indians and one Egyptian national, aged between 20 and 51, have been arrested and indicted on charges of illegal smuggling. They remain in pre-trial detention pending the ongoing investigation. Their names have not been released but authorities said they do not have any known previous criminal convictions.
The ship, currently docked at the port of Iraklion, in Crete, has a shadowy past. It is currently banned from any European port, under the Paris Memorandum of Understanding (Paris MoU) control system, due to safety issues raised in Spain in 2014.
The vessel, registered in La Paz, the capital of landlocked Bolivia, has often changed hands, name and flag. Its present owner is an Egyptian company called Haddad Shipping SA, headquartered in Alexandria. However, operations are delegated to another company, the Syria-based Phoenicia Maritime LLC, which uses as its registered address a post office box in the regime-controlled port city of Tartus that hosts a naval facility for the Russian Navy.
Earlier reports by IBTimes UK that the vessel was run by IMS Hellenic, a company based in Athens Piraeus port, were based on a European transparency database, which appears to be out of date.
The Haddad 1 was stopped after intelligence that identified it to the coastguard as a "vessel of interest" (VOI), a designation given to ships that authorities believe should be paid special attention for possible suspicious activities.
Greek detectives said they are still investigating who was to be the final recipient of the cargo. Local media suggested the weapons might have been directed to Islamic State (Isis) local offshoot, a rival of Libya Dawn, but no substantial evidence to support the claim has emerged.
The coastguard official said they cannot rule out that the weapons and cigarettes were to be exchanged for oil. Libyan militias are struggling to turn the country's vast reserves into revenue amid the raging civil war. The identity of the sellers is also not yet known but the official said he was hopeful that more indictments will follow.
The case is set on the backdrop of the intricate relations between militias in Libya and powerhouses in the Middle East and is likely to fuel accusations that Ankara has been actively supporting Libya Dawn, which took over the capital, Tripoli, in 2014, ousting the internationally recognised government and installing a rival administration.
In February, Abdullah al-Thinni, the prime minister of the ousted government, claimed Turkey had been arming his rivals - an allegation denied by Ankara.