Halle Berry Dons a Daring Dress on The Tonight Show with Jay Leno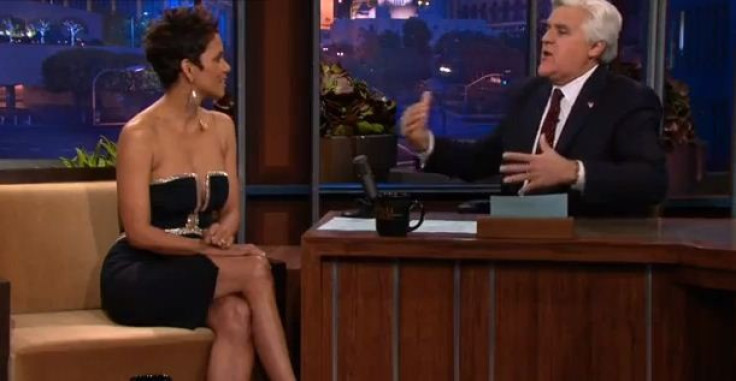 Halle Berry ensured 0ll eyes were on her as she arrived on The Tonight Show with Jay Leno in Burbank, California. The 46-year-old actress looked stunning in a strapless Reem Acra dress with a silver trim and a sheer nude neckline.
The 62-year-old host looked like he was having a hard time concentrating on the talk and went on to compliment the Bond girl on the plunging Versace gown she wore to the 85th Annual Academy Awards last month, adding, "I like this dress better."
"I had a conversation with Donatella Versace and told her that I really want to go to the Oscars as a Bond Girl, if a Bond Girl would go in 2013," Berry said, "So she came up with her idea of what it was, but she's out of the country. She put it in a suitcase and shipped it here and I got it the day before the Oscars."
"I had some other dress I was going to wear which was beautiful. But I pulled this out and it fit perfectly and I just thought "Wow"," she added
Berry also confirmed that she would be revisiting her role as Storm in the upcoming X-Men movie, X-Men: Days Of Future Past.
"It's a great role. And those residual cheques don't hurt," she laughed, adding, "It's a character I love and fans really love the whole series. They really love Storm. And it's like family, you know, it's fun to get back together with Hugh [Jackman] and everybody."
© Copyright IBTimes 2023. All rights reserved.