At least 48 people, including three soldiers, have been killed after heavy monsoon rains lashed three hilly districts of southeast Bangladesh, authorities said on Tuesday (13 June). Most of the victims were reported to have been buried under massive landslides triggered by the rainfall.
Police warned that the death toll could go up as several people have been reported missing. Emergency workers struggled to reach remote parts of the affected areas where transport and telephone links have been cut due to the rains brought by a tropical depression.
"The recovery work is still going on. The death toll could rise as many areas still remained cut off," Reaz Ahmed, the head of the Department of Disaster Management told AFP news agency. "Once the rains are over, we'll get a full picture of the damage and get the recovery work in full swing," he said.
According to reports, the rains began early on Monday across the country with massive amounts of mud sweeping over many homes.
As rescue workers were clearing debris and mud on a highway, they recovered the bodies of a couple of soldiers, military spokesman Rezaul Karim told the Associated Press over telephone. The deceased soldiers had been sent to clear the roads after the landslide.
"So far two officers and two soldiers have died, and two others remain missing in the incident," Karim said.
According to local media reports, 26 people were killed in the remote hill district of Rangamati which is located close to the Indian border. Many of the victims were from tribal communities in the region whose houses were buried under mudslides.
"Some of them were sleeping in their houses on hillsides when the landslides occurred," AFP quoted district police chief Sayed Tariqul Hasan as saying. "We've evacuated some of the affected villagers to schools and other safe places."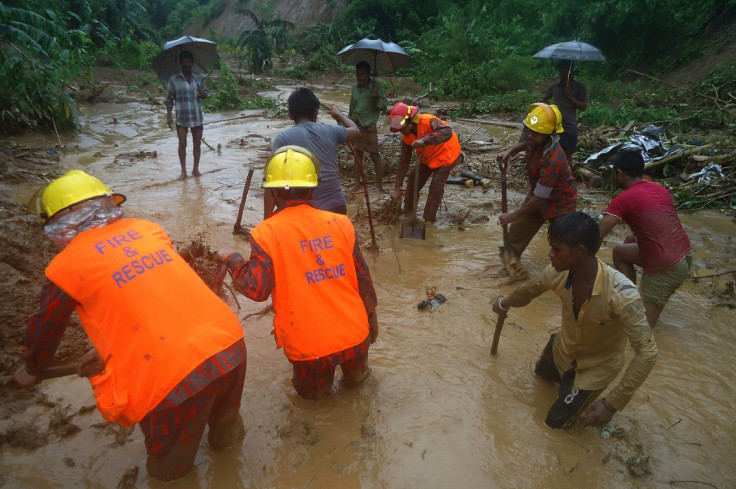 Reports also suggest that at least 12 people died in Chittagong while another 10 of the casualties – among them three children - were in the nearby district of Bandarban.
Seasonal rains often cause landslides and casualties in the South Asian country every year. A similar incident a decade ago killed 127 people in Chittagong.
The latest disaster came weeks after Cyclone Mora struck southeast Bangladesh killing at least eight people, leaving several fishermen missing and damaging tens of thousands of homes.