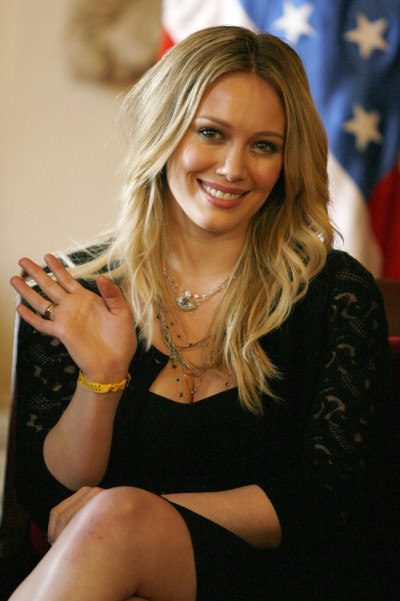 Hilary Duff has recently revealed that she is expecting a son. The singer made the announcement on "The Ellen DeGeneres Show," according to The Hollywood Reporter.
"I haven't told anyone yet. I just found out . . . It's a boy! I had a feeling it was a boy the whole time," the 24-year-old told DeGeneres. Duff is expecting her first child with her husband of just over a year, NHL player Mike Comrie. On the show, which airs Monday, the former Disney star also revealed how she told Comrie that she was expecting.
"When it actually happened he was in the shower. I think sometimes when you imagine it you think you're going to do it in some cute way . . . I just ran in and he was in the shower and I just held up the test and I was like, oh my God . . . he was soaking wet. We were just like a mess and started crying. It was really exciting," said Duff. Duff has also confessed that her growing baby feels like an alien invasion.
"It's so different. It's literally like an alien has taken over your body. One day I'll have a good day, and one day I'll have a bad day, and it kind of goes like that," she told MTV News.
Duff is currently in the middle of a book tour in support of her second novel, "Devoted." The novel is a follow up to Duff's 2010 release, "Elixir," which was recently recognized as a New York Times bestseller. The actress-singer and her husband Comrie first announced their pregnancy on their one-year wedding anniversary in August.
"I can't believe it has already been a year, time really flies when you're having fun! We also want to share the exciting news that ...... BABY MAKES THREE!!!" she wrote on her Web site.
Here is a photo tribute to Hilary Duff, the glowing mommy-to-be.