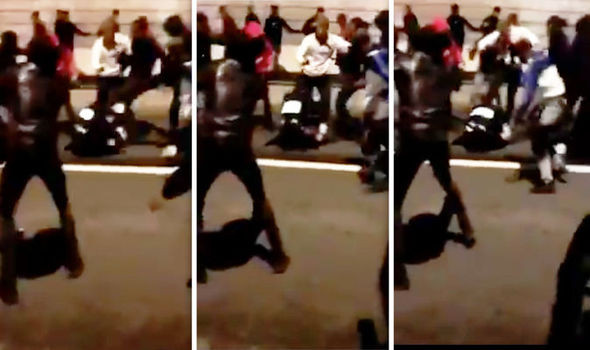 A female police officer has been kicked in the head and beaten by a violent Paris gang, who then posted gloating footage of the attack on social media.
The shocking incident took place early on New Year's Day after an emergency call in Champigny-sur-Marne, a suburb in the south east of the French capital.
The female – who has not been named – and her police captain boss were both set upon by the gang after arriving to restore order at a New Year's Eve party in the area.
Footage shows the woman trying to cover her head as she is beaten by the screaming gang. At one point her boss takes out his gun in a bid to protect himself, but he does not let off a shot.
The video has provoked outrage in France, leading to President Emmanuel Macron promising to bring those responsible to justice.
He said: "Those guilty of the cowardly and criminal lynching of police doing their duty on the night of 31 December will be found and punished.
"Force will support the law. Honour to the police and full support to all the agents attacked in such a low-level fashion."
The two officers arrived to stop fighting in the streets at the end-of-year bash, after revellers were refused entry to a house party. But they themselves soon became the target of the angry mob.
The pair were finally rescued by fellow officers and rushed to a nearby hospital. They suffered concussion and other injuries, although the condition of both is not reported to be life-threatening.
During the footage, an unidentified woman, using Paris street slang, says: "The evening has really gone wrong. Goodness. Poor copper."
The gang melted away into a nearby housing estate after upending the police car officers arrived in.
French interior minster Gerard Collomb said after the attack: "I just spoke with the police officers assaulted.
"Everything is done to ensure that the cowardly perpetrators of these unspeakable acts are apprehended and sentenced. To attack our security forces is to attack our Republic."