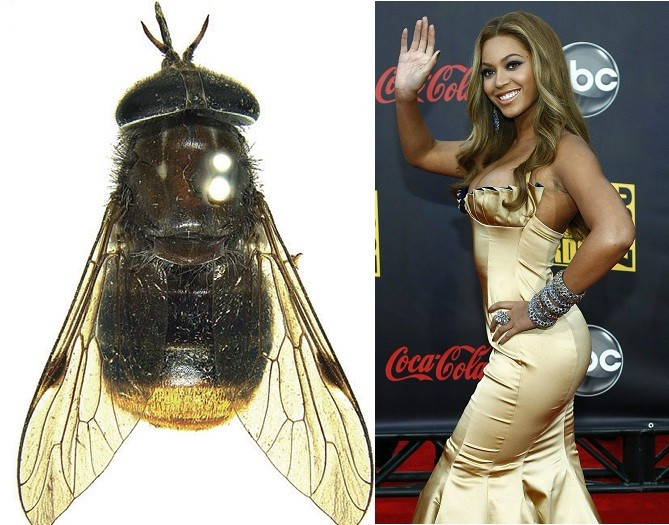 It's a bootylicious honour for the pop diva and the mother of Blue Ivy Carter, Beyonce Knowles.
A horse fly with a golden lower abdomen has been named after Beyonce by an Australian scientist, Brian Lessard, according to a statement by Australia's Commonwealth Scientific and Industrial Research Organisation (CSIRO).
The previously unnamed fly was named "Scaptia (Plinthina) beyoncea," by the scientist as its golden coloured bottom resembles that of the American pop diva Beyonce's rear.
According to the researcher, the spectacular golden colour of the fly makes it the "all time diva of flies".
"It was the unique dense golden hairs on the fly's abdomen that led me to name this fly in honor of the performer Beyonce as well as giving me the chance to demonstrate the fun side of taxonomy - the naming of species," Lessard said in a statement.
"Horse flies act like hummingbirds during the day, drinking nectar from their favorite varieties of grevillea, tea trees and eucalypts. Most Australian Scaptia species have been described, however, these five 'new' species of a subgroup (Plinthina) have been housed in Australian collections since the group was last studied in the 1960s," he added.
The Beyonce fly was collected in 1981, the same year of Beyonce's birth, from north-east Queensland's Atherton Tablelands along with two other previously unknown specimens.
With this new honour, Beyonce would be joining the club of other celebrities like Harrison Ford, Matt Groening and Roy Orbison, in whose names organisms and new species are named.