Former Playboy bunny Kendra Wilkinson once filmed a lesbian sex tape with a friend, The Sun reports.
A friend of the star reportedly told the tabloid that the 45-minute video, shot in night-vision, shows the 29-year-old kissing her friend Taryn.
The I'm A Celebrity star has already been the subject of a sex tape scandal, after an intimate video with her ex-boyfriend was leaked on the internet.
Speaking about the 2005 video filmed when she was 18 with then boyfriend Frye, she said at the time: "It just had to come out now when I finally cleaned up my life. It's extremely embarrassing. I am a very open person, I am very honest about my life, but a sex tape was definitely not what I wanted in my life. It wasn't for anybody else's eyes to see except for ours.'
While in the jungle, Wilkinson, who was one of Hugh Hefner's girlfriends, has been opening up about her sex life with the Playboy boss. She was 18, while he was 78.
She said: "I was usually very drunk during those evenings; I tended not to care about much until the next day. I had to be very drunk or smoke lots of weed to survive those nights.
"At about the minute mark, I pulled away and it was done. It was like a job. Clock in, clock out. It's not like I enjoyed having sex with him," the Daily Mirror reported.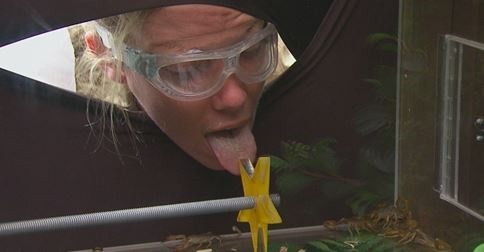 The reality star has also been the focus of speculation regarding her relationship with her husband Hank Bassett. Their marriage has been plagued by speculation regarding infidelities, after the NFL star was rumoured to have cheated on Kendra with a transgender model.
Breaking down in the camp, she hinted at the troubled relationship as she spoke of her regret at not recognising the signs of depression in her husband.
"There is such a thing as depression and even a big guy like you [Jake Quickenden], you have to hear people's cries and I didn't. He came to bed so many times crying and I wasn't there for him."
After impressing in the eating challenge Wilkinson fared poorly in subsequent bushtucker trials, but redeemed herself in the latest task after being paired up with Edwina Currie.
The two who had been at the centre of a verbal spat, put their differences aside to return triumphant to the camp.