Move aside Pepper, Asimo and Valkyrie, there's a new humanoid robot on the block and it's from Iran. Surena III, the humanoid robot is the product of four years of research by multiple Iranian institutes and understands Persian.
Surena III is a 6"4in (1.9m) bipedal robot weighing 98kg (216lbs) which can walk, scramble over uneven surfaces, grasp objects, kick a football and go up and down stairs. Its built-in vision system makes it possible for it to detect faces and objects, identify voices speaking certain pre-defined phrases in Farsi, and imitate human movement and gestures.
Similar to Honda's Asimo and Boston Dynamics' Atlas robot, Surena III has four articulated limbs, with seven degrees of freedom in each arm, six in each leg, one in its torso and each hand, and two in its neck.
The robot runs off the popular Robot Operating System and is powered by 31 servomotors and a host of sensors including a 3D vision module based on the Xbox Kinect technology. Its software development kit (SDK) comes with integrated C++ libraries so that researchers can quickly develop new responses and behaviours for it.
While Surena III's capabilities are interesting, it lags behind Atlas and Asimo. Asimo can run and hop on one foot, while Atlas can scramble over rocks. But the Iranian product is still an encouraging development and the first big example of a robot developed by a Middle Eastern nation.
It is an interesting aspect that Surena III has been taught to identify and understand certain preset phrases spoken in the Persian language of Farsi – this is similar to Softbank's Pepper, a "social companion" robot on a rolling pedestal that can talk, sing and understand human emotions, which sold out in one minute when it was launched.
Surena was built and developed by more than 70 professors, engineers and students from the University of Tehran and five other Iranian academic institutions, as well as robotics software and speech systems developed by local Iranian tech companies, all under the guidance of Professor Aghil Yousefi-Koma of the School of Mechanical Engineering at the University of Tehran.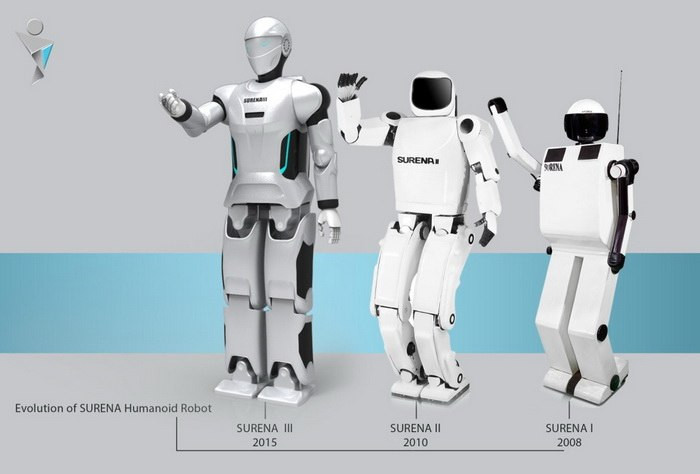 Yousefi-Koma told IEEE Spectrum that he forsees Surena III being used in manufacturing, healthcare and other applications such as disaster relief, similar to Nasa's Valkyrie, which is being prepped to perform autonomous missions on Mars.
The researchers are continuing to develop the next version of Surena, the first version of which appeared in 2008, and they hope to improve how the robot interacts with humans and make it able to perform more actions autonomously.