Disturbing images have been released by ISIS showing a masked child beheading a doll in an orange jumpsuit, in a "re-enactment" of James Foley's murder.
The "execution" images were posted online by a supporter of the terror group, with the chilling message: "Teach your children to cut necks, tomorrow there will be a lot of rotten heads."
The unidentified child, aged approximately eight or ten, is seen standing in front of the black flag which has become the symbol of the terror group. He is dressed all in black, with a balaclava covering his face, while he brandishes a knife, holding the blond doll by its hair.
In a second grisly image, the doll is decapitated on the floor, with blood painted around its neck.
The photographs have emerged midst growing fears that children are being radicalised through social media.
British jihadists have reportedly been using tools such as Smartphone apps and the question-and-answer website ask.fm, to persuade impressionable children as young as 15 to join them, and have been actively posting images of children who are already members of the group.
Earlier this month Australia's Prime Minister Tony Abbott condemned the circulation of images of a young boy, apparently holding the severed head of a Syrian man.
A photo of Younes Abaaoud, a 13-year-old from Belgium, was also posted on social media, showing the teenager holding an AK-47 in his left hand and pointing to the sky with his right forefinger. He is believed to be the youngest member of ISIS, having joined his older brother to fight in Syria for the terror group.
Professor Nicholas O'Shaughnessy from Queen Mary University of London, who has studied Islamist communications, said he believed the images were not aimed to corrupt children in themselves.
"The images involve a child and therefore deliberately invoke the idea of contaminating the innocence of children. They are a way of exploiting the original death imagery in a new, creative and utterly foul manner," he explained.
"It is so utterly sick and perverted and depraved that it guarantees global visibility: child abuse, pure and simple, it pushes other stuff to one side in a world where so much else is competing for our attention.
"The interesting question is why. This practice is so deeply alienating and it is founded in a belief in the supreme effectiveness of the fear appeal, forgetting of course that there are stronger motives than fear.
"Anger, for example, assassinates every other emotion and all ISIS are really doing is arousing universal rage against them such that we no longer see ISIS as human, but monsters to be slain, or cockroaches to be stamped on."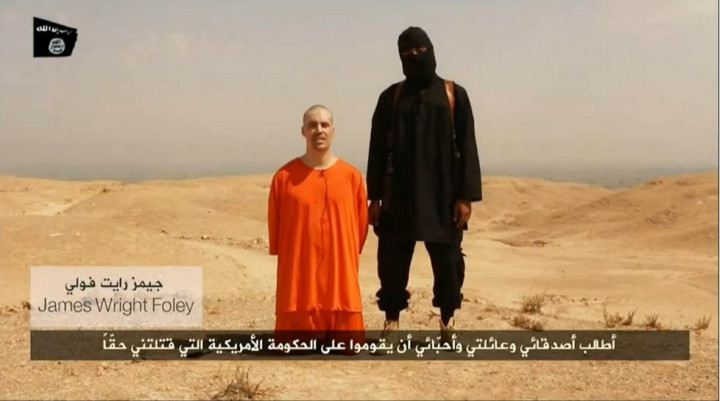 The photographs were posted on Friday (22 August) after Twitter and YouTube vowed to halt the spread of extremist propaganda and launched a renewed crackdown on jihadi propaganda accounts.
Twitter chief executive Dick Costolo wrote on Wednesday (20 August): "We have been and are actively suspending accounts as we discover them related to this graphic imagery."
After several accounts, circulating gruesome imagery were taken down, jihadis switched to other less well-known social networks.
Islamic State militants have swept through large swathes of Iraq and Syria pledging to establish a 'Caliphate' which would enact a harsh interpretation of Sharia law.
Extremists have persecuted religious minorities, from Christians to Shia Muslims and the little-known Yazidi group, issuing them with the ultimatum to convert or face death.