The depiction of Islam's Prophet Mohammed on the cover of Charlie Hebdo in the first issue of the satirical magazine published since the massacre of its cartoonists and other staff by Islamist gunmen has divided public opinion in France, angering large parts of the Muslim community.
France's leading Muslim groups called for calm, after it was revealed that Charlie Hebdo's "survivors' issue" will feature a cartoon of the Prophet Mohammed holding a sign reading "Je suis Charlie" under the headline "All is forgiven".
"I urge the Muslim community in France to remain calm and avoid emotional or incongruous reactions incompatible with its dignity and discretion, while respecting freedom of opinion," said Dalil Boubakeur, the head of the French Council of the Muslim Faith (CFCM).
The cartoon of Islam's most sacred figure has met the indignation of many Muslims in France and elsewhere.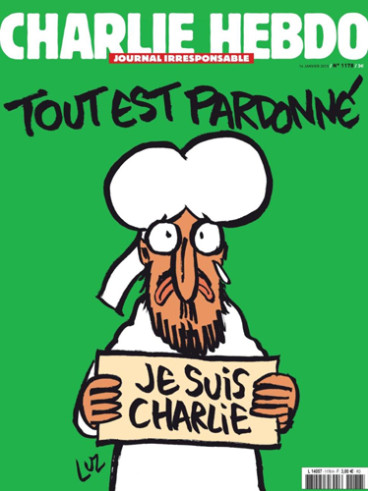 Dar al-Ifta, the institute repressing the Islamic faith in Egypt, denounced the cover as an "unjustified provocation" offensive to the world's 1.5 billion Muslims.
Abdallah Zekri, the head of CFCM's observatory for Islamophobia, told Le Figaro the publication was "adding fuel to the fire".
According to the Islamic faith, it is offensive to depict Mohammed in any manner.
Said and Cherif Kouachi, the brothers who carried out last week's attack on Charlie Hebdo, killing 12 people, claimed they targeted the magazine due to its record of defiant satire, often targeting radical Islam through cartoons of the prophet.
The massacre, perceived as an attack on freedom of speech, was met by a massive show of unity in France, with millions of people, including many Muslims, taking to the streets under the slogan "Je suis Charlie" (I am Charlie).
However, cracks in such unity started to appear, as several schools with a high number of Muslim students from families of immigrant origins reported that many pupils refused to respect a minute of silence for the victims of last week's attacks.
The incident pushed education minister Najat Vallaud-Belkacem to remind education authorities their role to promote France's founding values of liberty, equality and fraternity in a letter.
Many took to Twitter to voice their anger at Charlie Hebdo's renewed depiction of the prophet.
Thousands used the hashtag #JeNeSuisPasCharlie (I am not Charlie) to argue violence was to be condemned but so was the magazine, that many described as racist and Islamophobic.
Founded in 1969 and published weekly, Charlie Hebdo has routinely caricatured and mocked people from across political, social and religious sections of society, including figureheads like the Pope.